Being Different isn't always easy...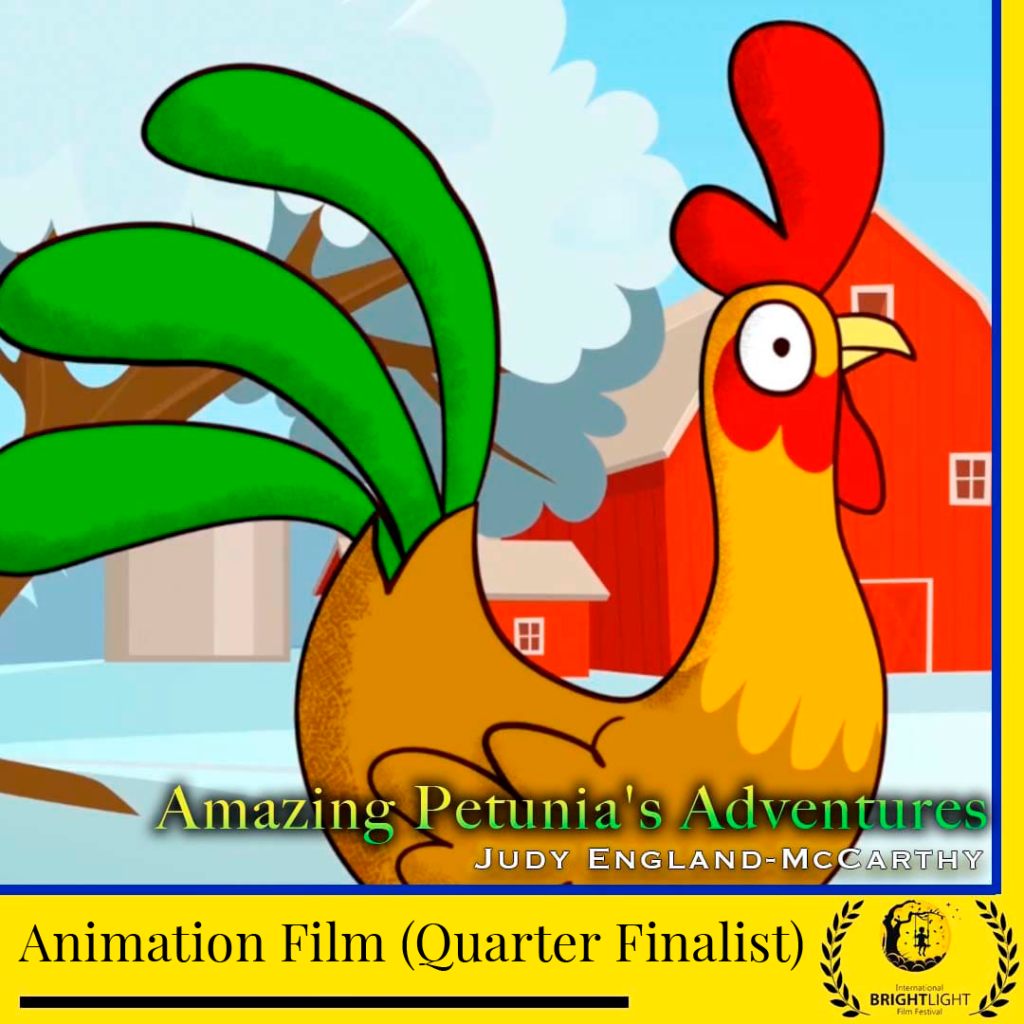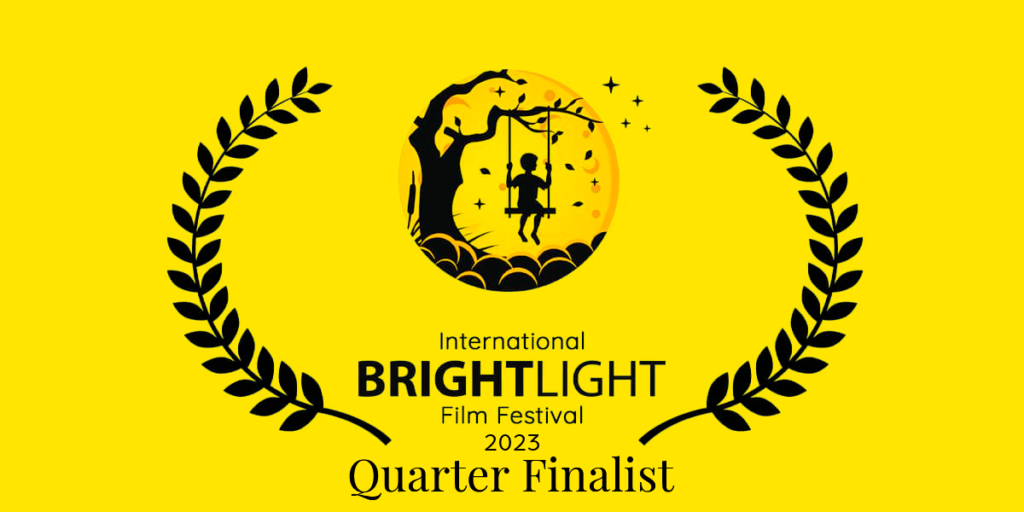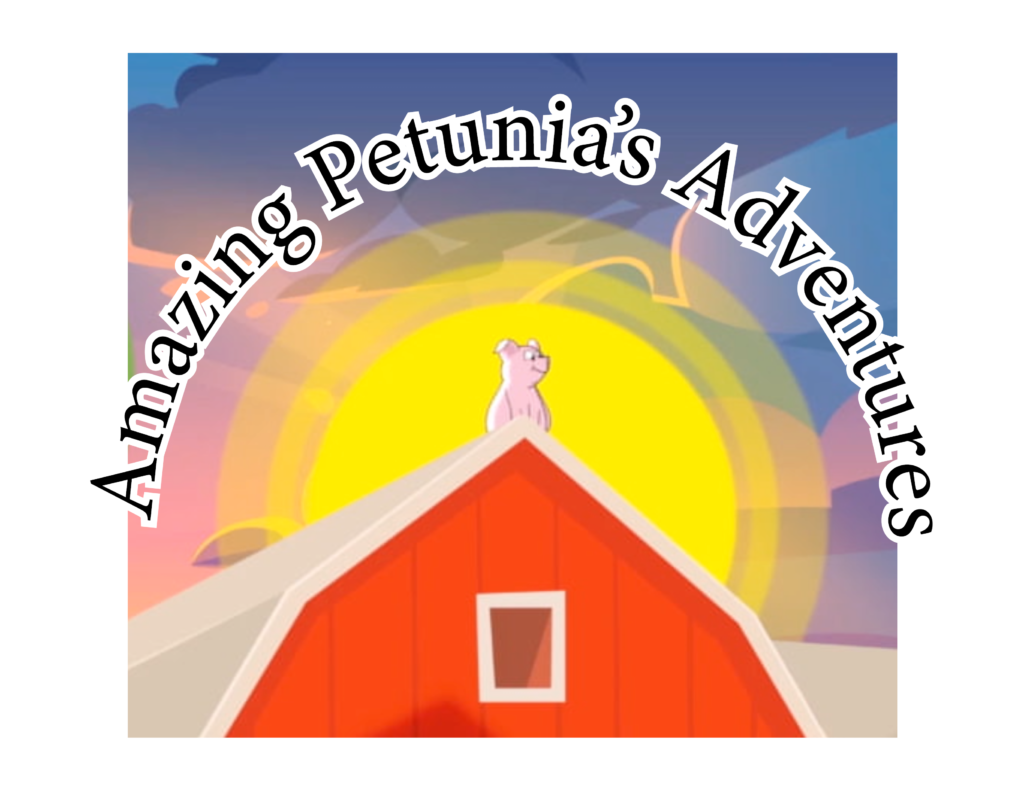 Category: Films & Television Programs for Children & Teens
June 9th-25th | Come Join Us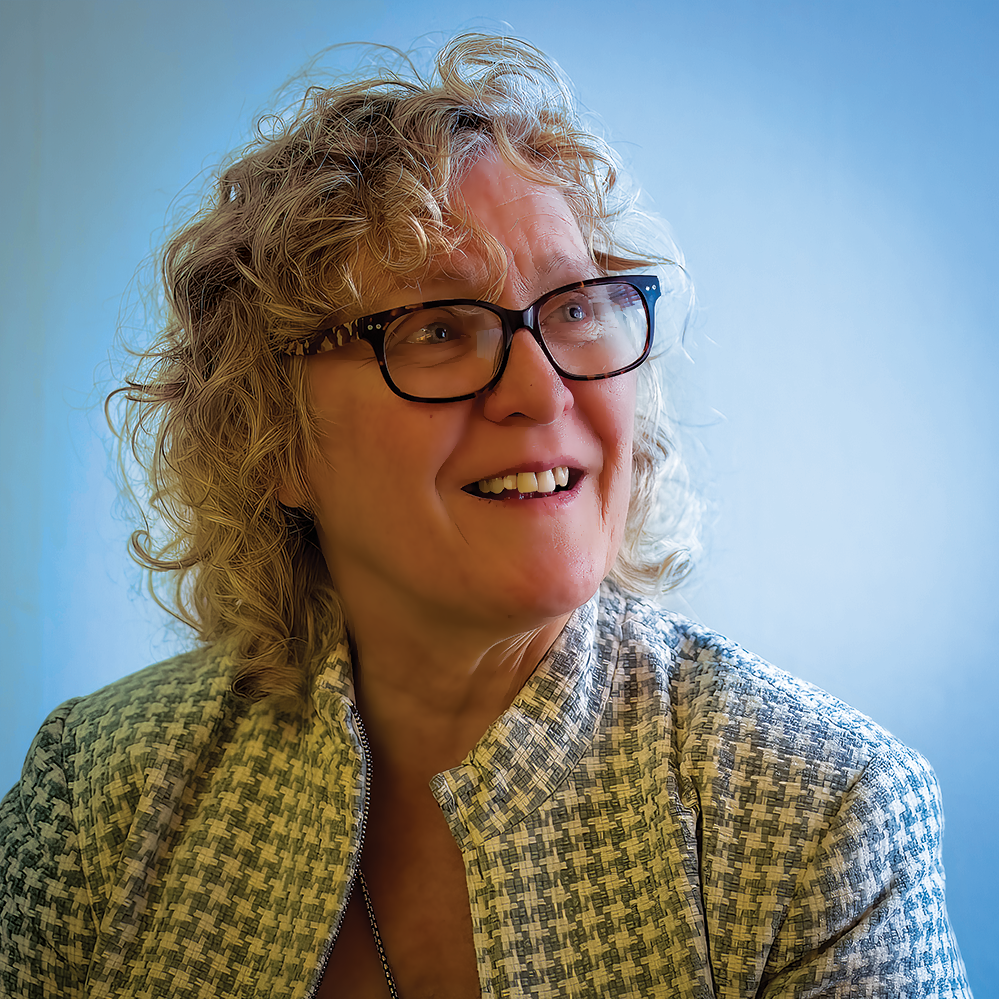 I hope to entertain, inform and transform people through my telling & written stories. In this way, the oral tradition can find new life & thrive.
[email protected]
(908) 357-0622
New Jersey
As a Storyteller, she Adapts, Creates, and Shares Stories, Poetry, Living Characters, Children's Books & Videos
Author/Storyteller
Teaching Artist/Workshop Facilitator
As an author, workshop facilitator, and professional storyteller her creative intention is to make connections with people through words.
Judy is a born storyteller. She started writing poetry as a small child of seven. At ten her rhyming slogan and picture won a citywide safety contest. She is now the author of four children's books, and a contributor to four anthologies including "Writes of Passage" a 2022 BookFest Award winner published by GLVWG. This year her animation based on her children's book "Amazing Petunia's Adventure" has been selected for the 2023 Atlanta Children's Film Festival.
Judy sprinkles elements of humor, wisdom, and originality in what she does and hopes to entertain, inform and transform people through her telling, workshops and stories. Since the late 1990's Judy has been a workshop facilitator, with her professional career as a storyteller commencing in 2009. She published her first children's book in 2013. In 2016 she was selected to create a video presentation of her "Just Listening Poem" for the Missouri Humanities. In 2020 Fanstory, an online community selected her poem to win their spiritual poetry contest. Judy can be found performing, giving author talks and workshops at various venues throughout the tri-state area.
Online performances & workshops available worldwide. A GOOD STORY TOUCHES THE SOUL & HELPS THE SPIRIT SOAR.
Performance Venues
Live / Online
Grounds for Sculpture
Chennai – India
(Online Festival)
Worldwide Virtual Storytelling
(African Folktales: Anansi & Aesop)
Bobcaygeon Music Council
Canadian Summer Program
Willowsford Conservancy Dark Sky Event
LVSG Family Series
Woodbridge Library – Storytelling 101
(Online Workshop)
The Center For Art In Wood
Cherry Hill Library – New Jersey Tales
(Online Storytelling Event)
12th Storytelling & World Music Festival
New Jersey Storytelling Festival
Bergen County Zoo
Children's Hospital of Philadelphia
CopsNKids
Zoellner Arts Center
Union County Performing Arts Center 
Red Mill Museum
Timberline Lake Camping Resort
National Canal Museum
Kipona Festival
Rahway Winter Wonderland
Middlesex Historic; Old Town Village
Newark Downtown Event
Das Awkscht Fescht
Various Tellabrations, Featured Olio teller.
The Ice House (Topsy Turvy Tuesdays).
AARP various chapters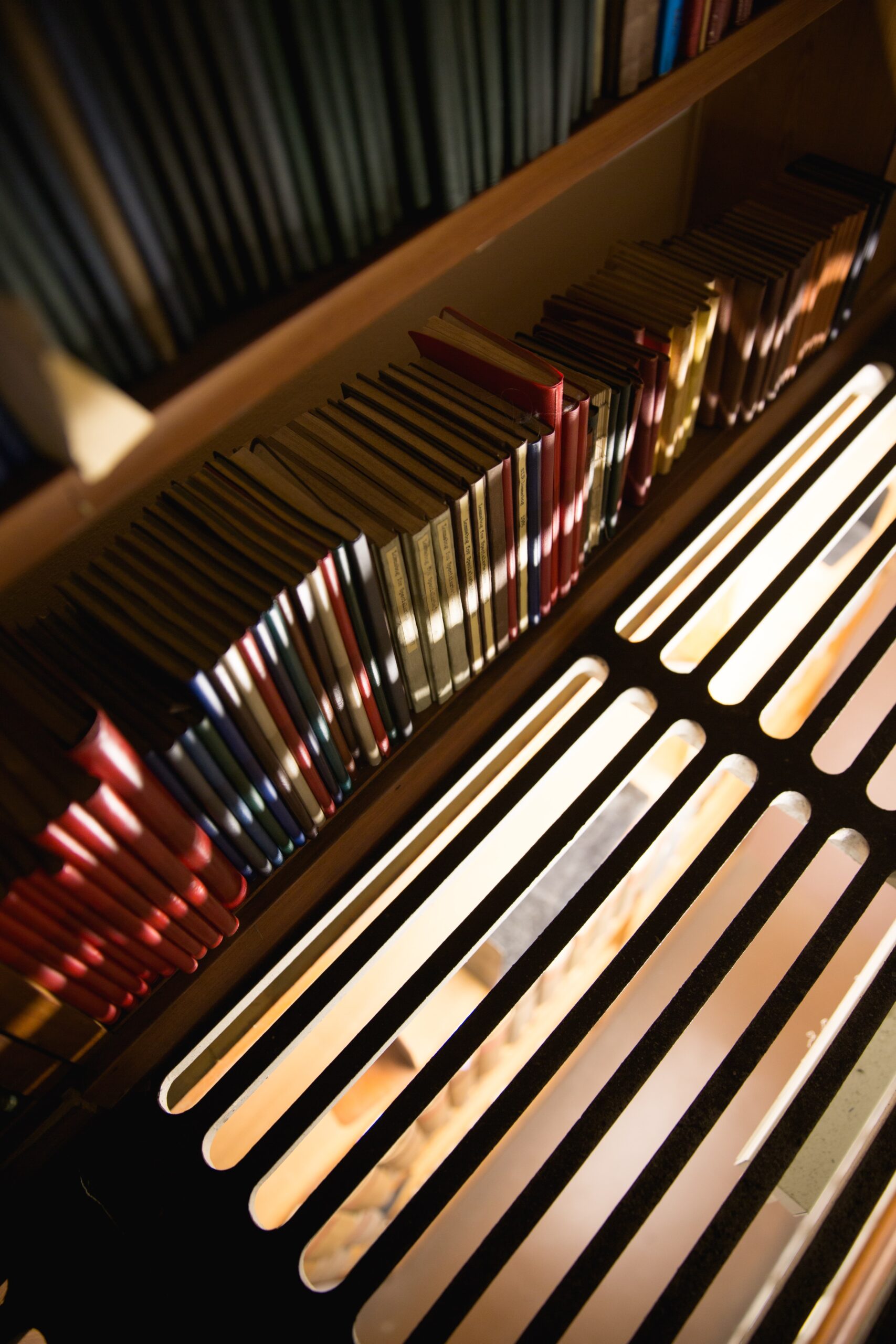 A video representation of an original poem was presented at "The Just Listening Event" by The Missouri Arts Council.

A creator of many of her tales she has published several of her original stories:

Amazing Petunia's Adventures
Twas Midnight
Why, Oh Why, Did A Witch Swallow A Fly?
A Witch's Bash 12 Hours Of Halloween

Launched 2022 – just in time for Halloween.
Judy completed the making of "Amazing Petunia's Adventures" into a children's animation series 2022.
Mindful Writers Retreat Series – Anthologies
Poem & short story in "Love on the Edge" Short story in "Shell House"
The Greater Lehigh Valley's Writers Group (GLVWG) Anthology titled "Rewriting the Past." Poem
Award-winning 2022 Anthology
"Writes of Passage" Short fiction & Poem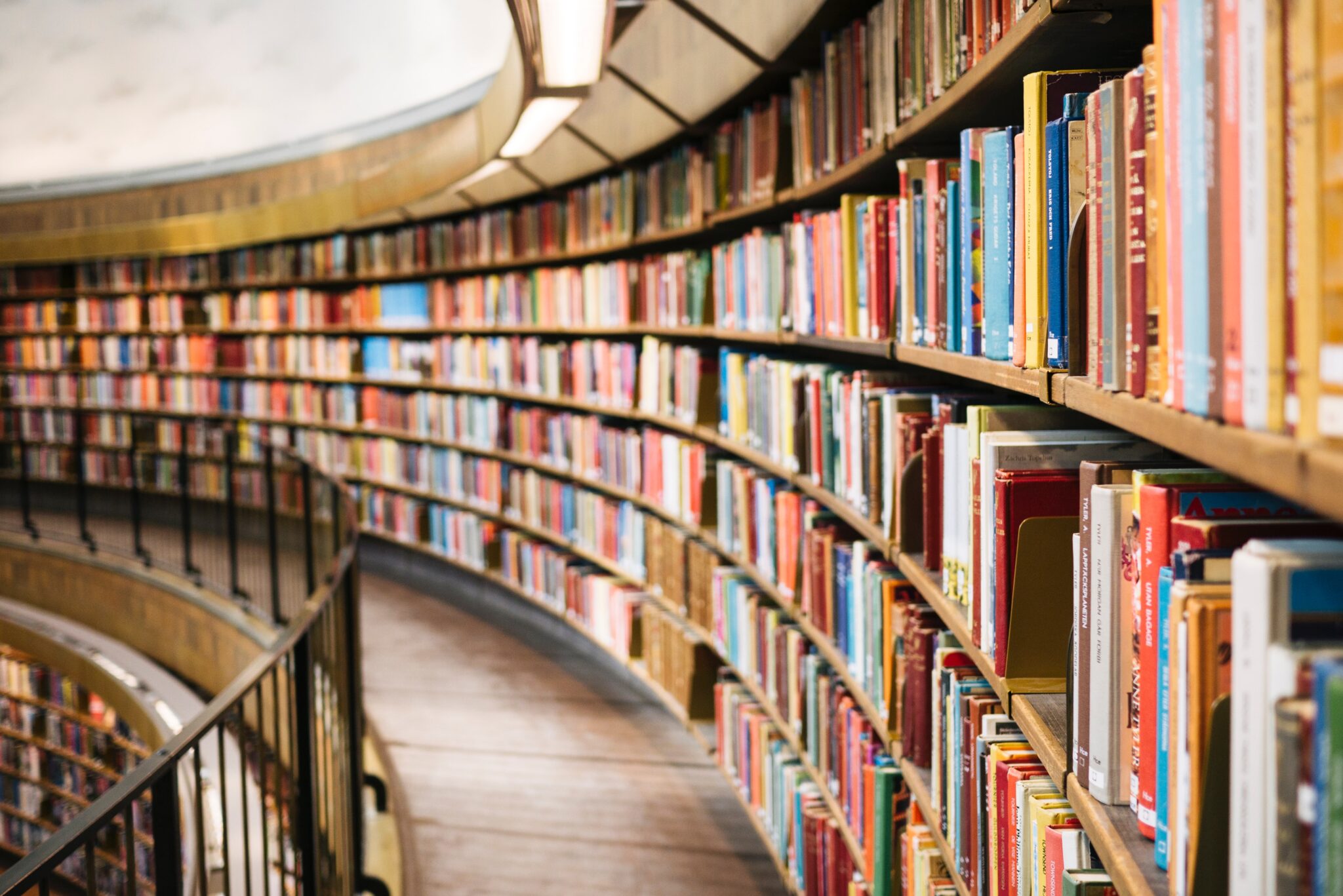 Children | Family Friendly | Adult/Senior
Will adapt most programs for the specific needs of the event.
Perhaps have a story created just for you, or for your special occasion.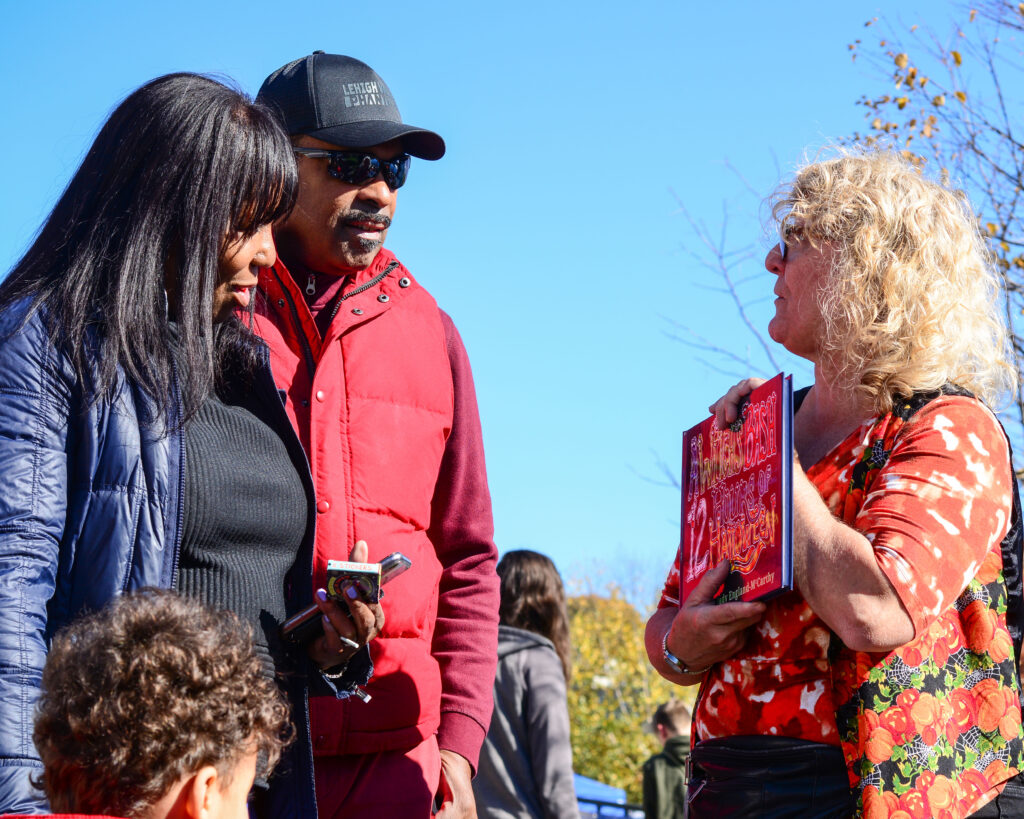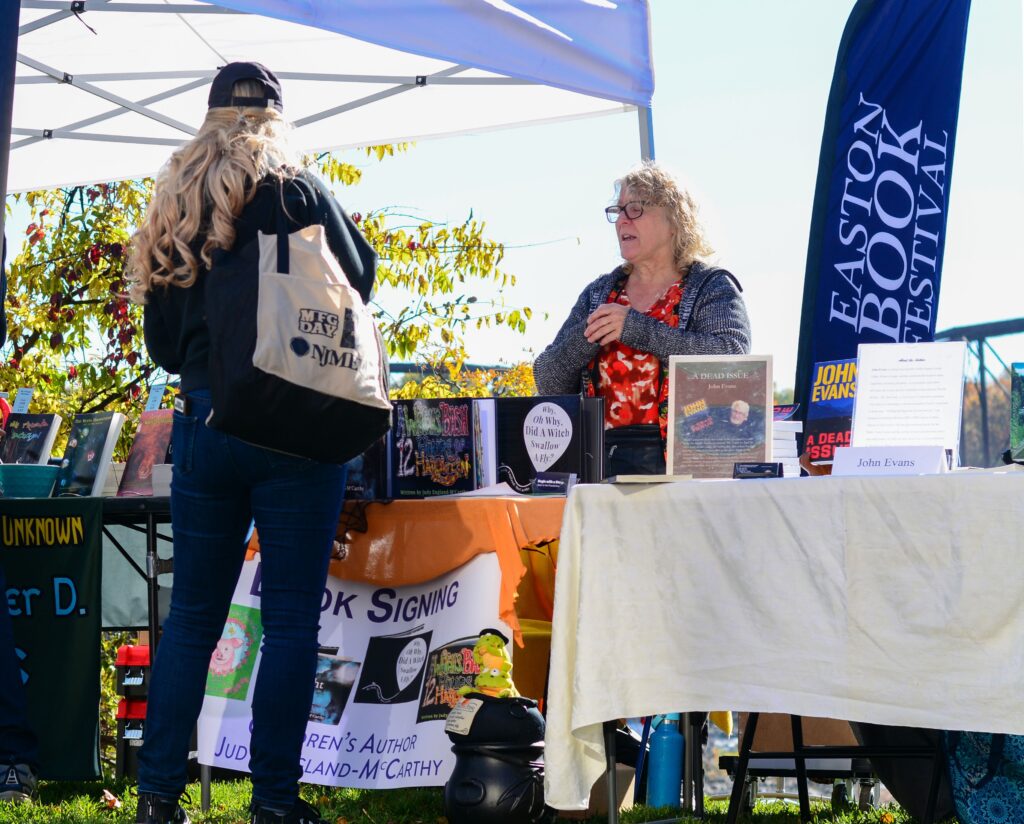 "He loved it!  Read again again again!"
"Thank you for such a fun, creative, captivating book that I'm sure will grow with my little one."
Jessica Kelly • Parent • PA
In Person & Online Programs
Changing How You See The World
Find Your Voice
Developing the Story from Within
Storytelling Principles
Antibullying
Assorted Stress Relief
Paradigm Shifting
All Hallows Eve Tales
Animal Antics
Fairy Tale Fun
Judy's Jacket
Original Tales
Storytelling 101
Tales for Tiny Tots
Trickster Tales
Winter Wonderland
Wild West
Spooky Stories
Tall Tales
Jersey Tales
Irish Tales
Jack Tales
Holiday Themes
Around the World

Greek Myths

Seasons of Stories
All Hallows Eve Tales
Animal Antics
Fairy Tale Fun
Jersey Tales
Judy's Jacket
Storytelling 101
Tales for Tiny Tots
A Shared Gift (Christmas Tales)
Spooky Stories
Trickster Tales
Wild West
Anansi Tales
Jack Tales

Original Tales

World Tales
Sample Telling of Original Tale
History comes alive in this 45 minute presentation video which has Annie Oakley sharing bits and pieces of the Wild West and the part she played in it. This one woman show has Q&A afterwards and was made available by the Heart Grant and shown at 5 participating Union County Libraries in 2022.
Testimonials from Participating Libraries
Thank you again for presenting, "Stories of the Wild West" for Plainfield Public Library via Zoom. The program was interesting, informative, and covered all of the well-known personages from the wild west legends. The incorporation of archival images and film footage provided a helpful historical component. Overall, the script was well-written and the film was edited in a way to always keep the viewer's interest. As a narrator, you successfully engaged and entertained the audience. A delightful program!
Sarah Hull • Head of Local History, Genealogy & Special Collections • Plainfield Public Library
Thanks for a great presentation last night. I found it very enjoyable and educational. Bette sent me this comment via email today: "The presentation on the Wild West was excellent.  It was informative, interesting and entertaining.  I liked the fact that the presenter used the first person in relating the stories of the female characters."  
Ellen Malosh • Adult Services Librarian • New Providence Memorial Library
The program with Judy England-McCarthy's Wild West was an engaging and entertaining program that showcased her storytelling skills making it an accessible hour long program for all educational levels and ages. The lively presentation helped people learn about the Wild West in a straightforward way letting both new Americans and people of all backgrounds learn about the familiar characters of the Wild West and others who are not as well-known but just as important. This program is a must-see for people who enjoy visually appealing, well laid out narrative for easy understanding including vocabulary words associated with the Wild West theme. Her creativity connects people through stories using poems, engaging characters like Anne Oakley, colorful costumes, and the lively dialogue to represent them. Her program engaged my students which got them to want to expand their knowledge of the Wild West and the historical landscape and characters that make it up.
Ana M. Herrera • Librarian | Information & Adult Services • Elizabeth Public Library
Thank you so much for presenting at our library. Our patrons enjoyed your presentation. Here is a write-up about your program: Judy's film "Stories of the Wild West" was screened with a live audience at our library. It was wonderful to be able to offer our patrons such a unique and fascinating program. Judy is a wonderful storyteller and our patrons found her film both entertaining and educational. Judy also took the time to engage with the audience after the screening and answered any and all of their questions.  Thank you again for coming in person for the program. Have a good weekend! 
Erin Coffey • Reference Librarian • Clark Public Library
The seniors found the program on the story and important people from the Wild West era very interesting and informative. They enjoyed the addition of maps, photos, songs & movie clips from the period. Highly recommended!
Lisa Wernett • Reference Department Head • Berkeley Heights Public Library
Patrons responses to the Wild West Program
8/10 • "This program gives people a sense of history,
by opening your state of mind in a dynamic way to the material." 
10/10 • "Did not know Annie's actual history. Thank you!
The Pictures matched the presentation so well! Having Annie narrate was so good."
10/10 • "A lot of things I didn't know much about the Wild Wild West.
I learned a lot, this was a Great Film."
10/10 • "Loved it! Narrator was animated and informative keeped my attention and
renewed knowledge that wes filed away in my brain."
8/10 • "Informative & entertaining,
I learned few new facts along the way."
8/10 • "Evolved to create a tale of gunfighters,
women in history and the rail road."
9/10 • "Presented orally and visually. Those who have difficulty hearing could read words.
The materials were about the difficulties women face traveling & homesteading"
10/10 • "Easy to understand, very interesting and well presented.
Learned alot about the wild west."
10/10 • "Enjoyed the photos of the people being presented,
however the program could be shorter."
10/10 • "The presentation was very easy to follow and understand it was very educational.
I enjoyed hearing and seeing about the wild west, especially how women got involved.
Interesting finding out about how Annie Oakley got her name."
Currently Available Online
"Judy blended folklore, legends, and history  to present a performance that was dynamic, entertaining, and informative! It was amazing to see her become Mrs. Leeds, the mother of the Jersey Devil, and offer a dramatic interpretation of the origin of the Jersey Devil. The performance was online through Zoom and she used that format to enhance her story telling. It was a thoroughly enjoyable time for all ages."
Candace Worrell
MLIS | Librarian | Cherry Hill Public Library
The Just Listening Project took shape in 2014 as a community response to social justice in Ferguson, Missouri. The Missouri Humanities Council and the University of Missouri came together to do this joint project and it was screened in February 2016 at the University of Missouri Saint Louis. This video is my contribution to that project and was showcased at the event and focuses on art as a reaction to tragedy as a form of activism.
Personal Stories
Workshop
Currently Available Online
"We appreciated Judy's dynamic and informative virtual program! She gave our patrons a lively presentation with a wonderfully personal touch. Her ability to adapt her interactive program to fit the virtual landscape was beautifully achieved."
Najea Grimes
Library Associate | Woodbridge Public Library
Currently Available Online
"Excellent and so helpful" 
"Great Program" 
"I'm so glad that we were able to use the breakout rooms for this session they really add a nice dimension to the workshop, working with the material, and other tellers learning the craft" 
"She was definitely one of the best presenters and would enjoy taking other classes from her." 
"I learned so much!" 
"LOVED IT. Learned so much. And Judy is a great teacher as well as a great presenter. Lots of insights that gave me a slightly different perspective–I always love that. Am going away thinking differently than when I came in." 
Participants
Story Center | Mid-Continent Public Library
Available Online or in Person
Interested in an Author Talk
"Engaging & fun information. Storytelling is such a wonderful & experience for kiddos!"
Pound Ridge School Teacher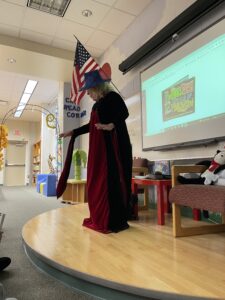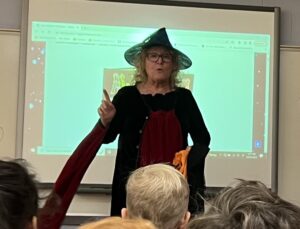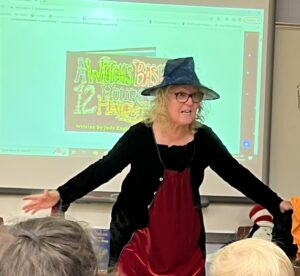 "Judy England-McCarthy's enthusiastic storytelling is exciting and fun. She presented her 12 Hours of Halloween book to our After Care Program students, and they loved the sing-along activity so much!"
Lisa Mahon • CST Secretary • Watchung Borough Public Schools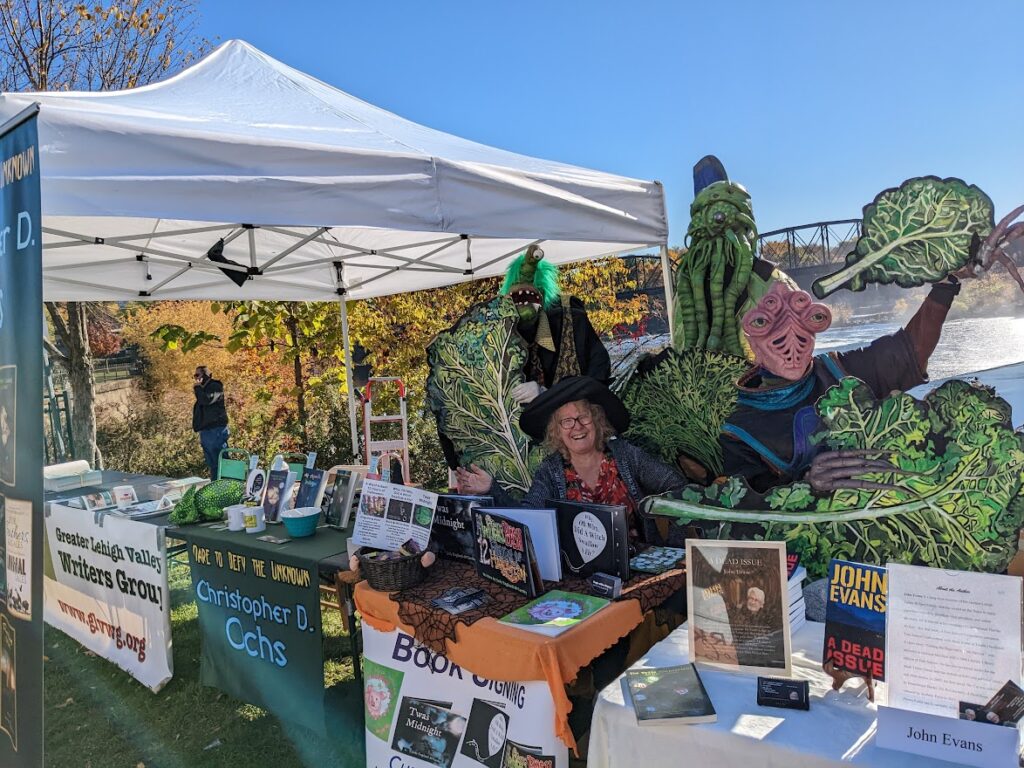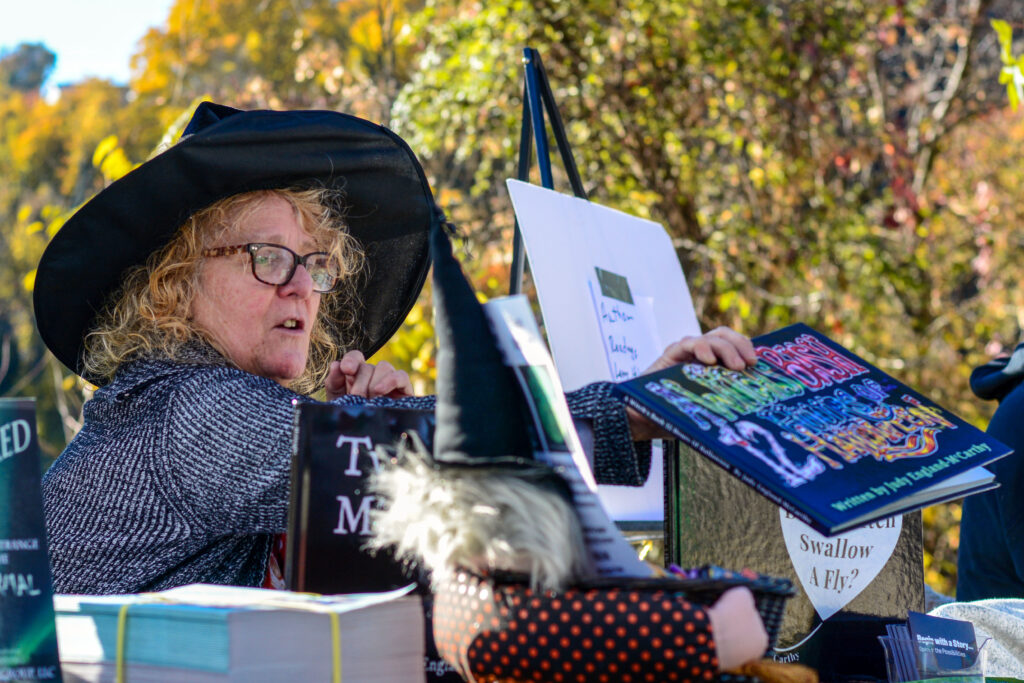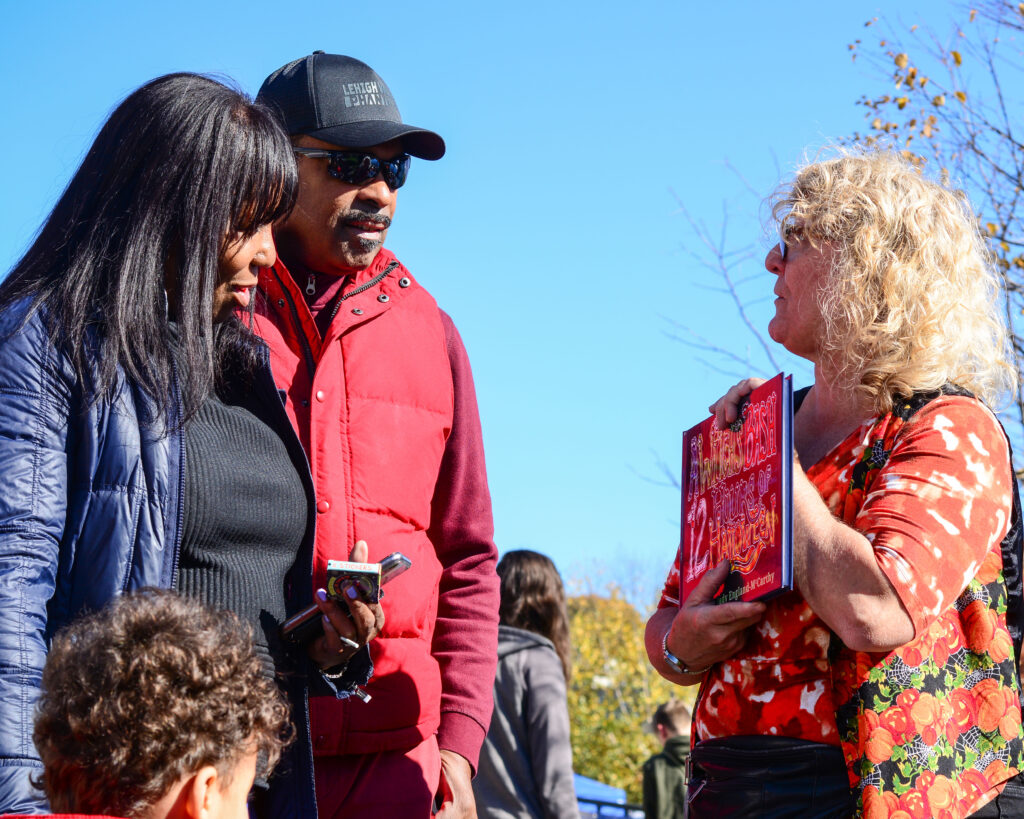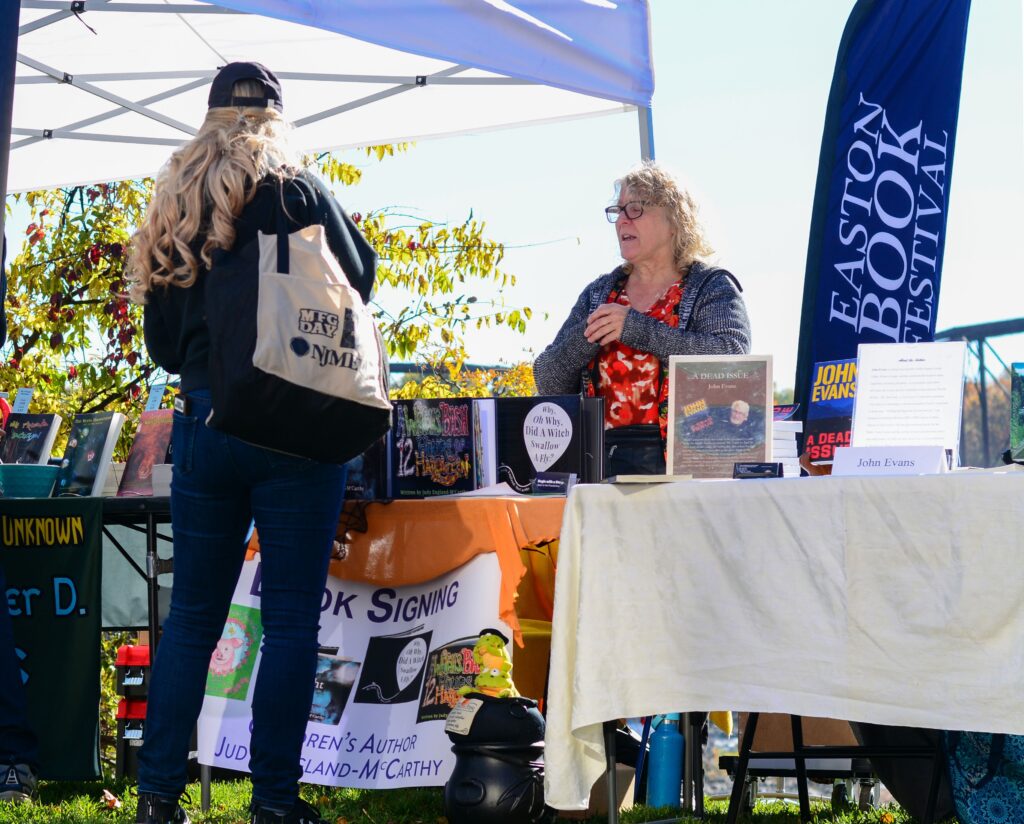 "He loved it!  Read again again again!"
"Thank you for such a fun, creative, captivating book that I'm sure will grow with my little one."
Jessica Kelly • Parent • PA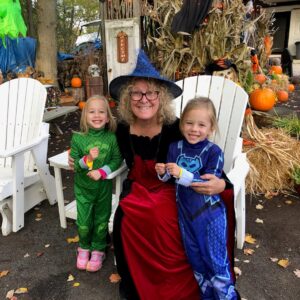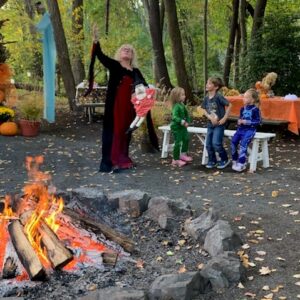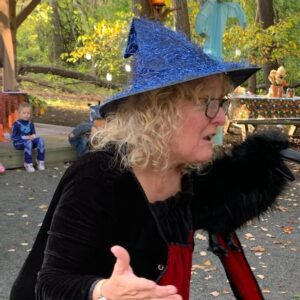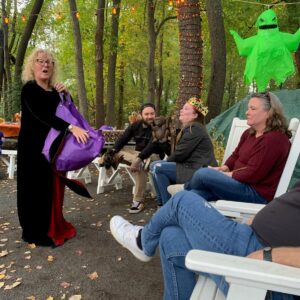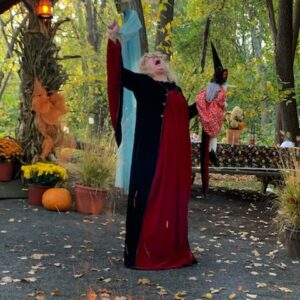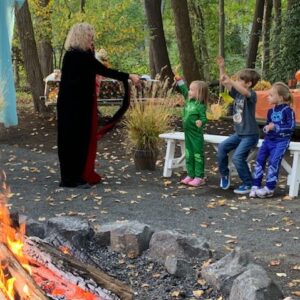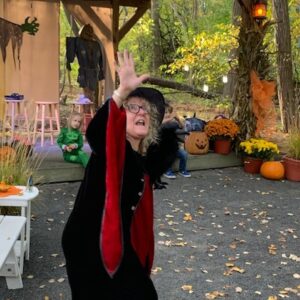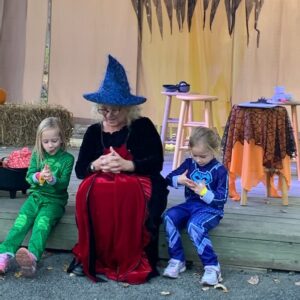 "We hired Judy for a children's outdoor Halloween event of fireside storytelling. Her energy was fantastic from the moment she arrived as well as all through her performance. She engaged all the children quickly to participate through the use of puppets, other props, and actions. Her books are wonderful and a nice added touch to the event. The kids can take home a nice remembrance of the day with the vividly illustrated Halloween books. Even the adults participated! It was great fun and we're planning on having Judy back next Halloween!"
Cindy Giejda • Owner • Giejda Landscape/Deer Haven Nursery • Farmingdale, NJ 
A Witch's Bash 12 Hours of halloween
Inspired by a Christmas song, A Witch's Bash is a great way to get into the Halloween spirit. The highly imaginative illustrations & creative take on a traditional melody will become your family's go-to book for Halloween. Enjoy the song included at the back to enhance your interactive experience of the book.
"Esteemed storyteller Judy England-McCarthy's (not too!) spooky yet silly spin on the traditional "12 Days of Christmas" is sure to become a Halloween favorite. The catchy lyrics will have the whole family singing along as they search for the charming creatures who make up the creepy countdown in this soon to be classic!"
Linda Hansen • Director • South Plainfield Public Library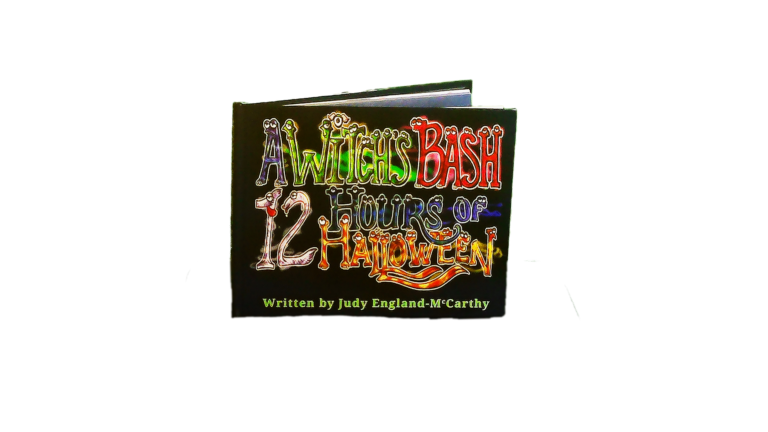 *Standard Children's Book 32 pages
Great multipurpose holiday read for the kids
Reviewed in Canada 🇨🇦 on September 15, 2022

Verified Purchase
Great Halloween find. The kids are super excited to add it to our fall reading collection. The author takes a familiar xmas sing and reinvents it for the Halloween season. Additionally beyond the updated lyrics, the story also contains a proper story introduction and ending so the kids are left satisfied. Offers multiple avenues for exploration leading to a extendable readability. Counting, singing, seek and find, the opportunities for enrichment and entertainment are endless!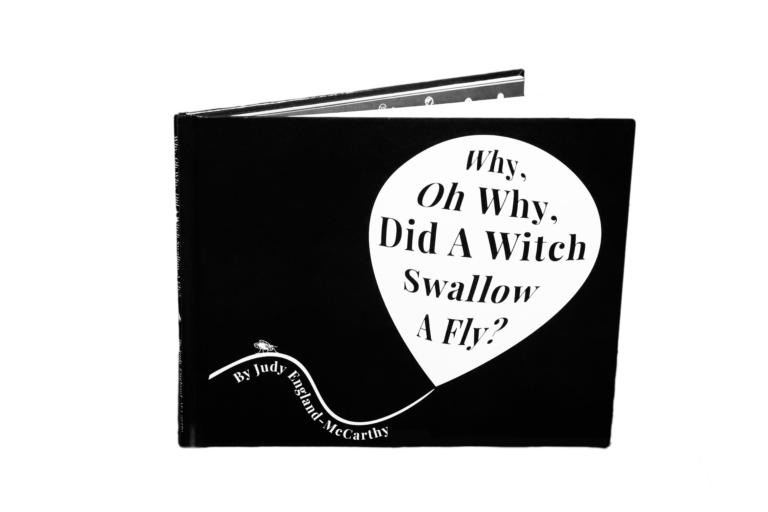 *Standard Children's Book 32 pages
Why, oh why, did a witch swallow a fly?
Though there are many versions of the "Old Lady Who Swallowed A Fly" this is the first to question why. A fun adaptation of an old tale that has been entertaining children for years. The simply stylized black & white illustrations make for a refreshing visual change.
Fabric book !!
Reviewed in the United States 🇺🇸 on January 11, 2022
Fantastic engaging book for kids.
My two boys love it !!
Reviewed in Canada 🇨🇦 on November 10, 2021
Verified Purchase
We really enjoyed Judy' England McCarthy's book, the story is especially fun to read out loud. Great work too by illustrator, Andrew McCarthy. Keep up the good work! Can't wait to receive my copy of Twas Midnight!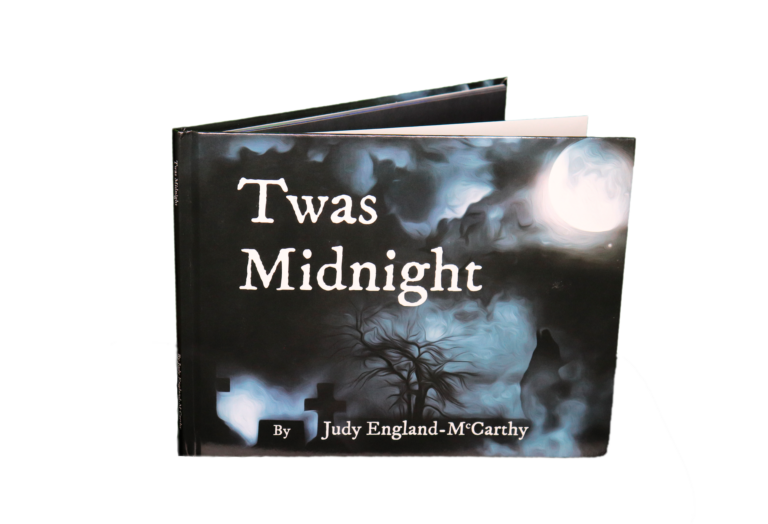 *Standard Children's Book 32 pages
Twas Midnight is an original tale of rhyming verse. The photo-like pictures lend an interesting & unique quality to the story. Reading and sharing this with your children is a fun way to get into the spirit of this festive holiday.

Easy & fun read to my littles
Reviewed in the United States 🇺🇸 on October 2, 2022
This book was easy and fun to read to my child and my pre k classroom. The illustration is also beautiful, many questions and discussions come from each page. Its the perfect Halloween read along for all.
Twas Midnight is a feast of Halloween Color.
Reviewed in the United States 🇺🇸 on October 18, 2021
Verified Purchase
Twas Midnight is a feast of color, bright and beautiful, wrapped around kid-pleasing poetry, just right for Halloween. The often surrealistic art should appeal to adult and child art lovers and the kid-friendly bold-printed words helpful for young readers. There is as much to "haunt" as to delight readers.
Anthologies Featuring the Author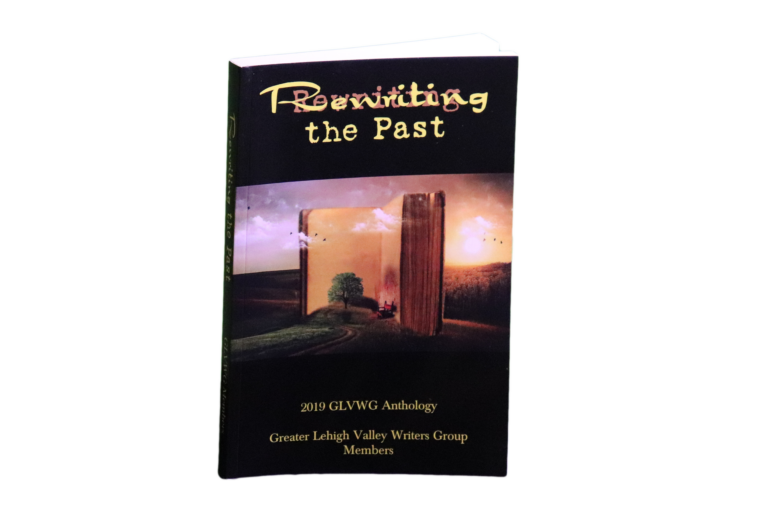 Won Spring 2022 BookFest Award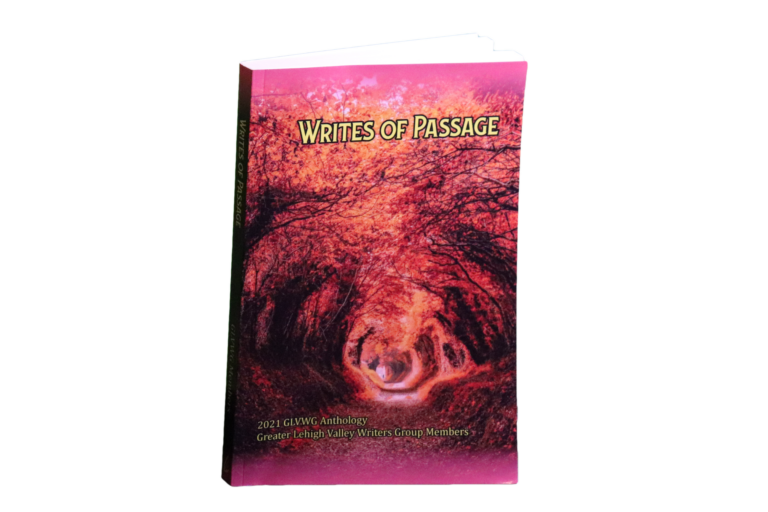 1st place in the Anthology category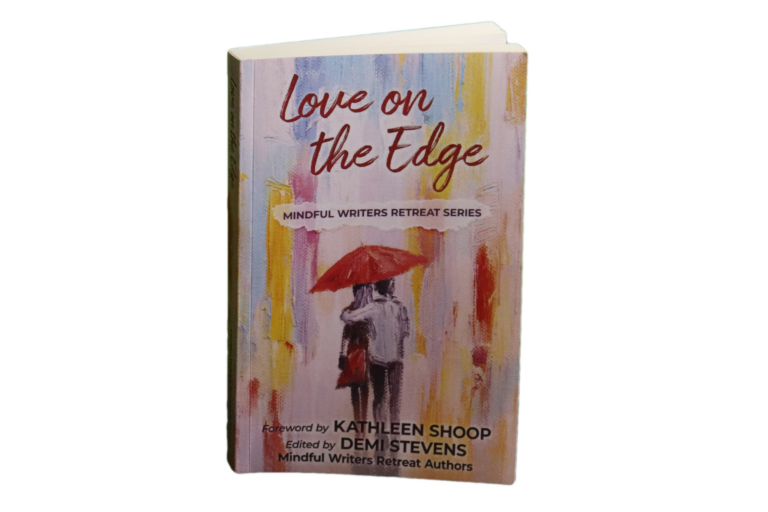 Amazing Petunia's Adventures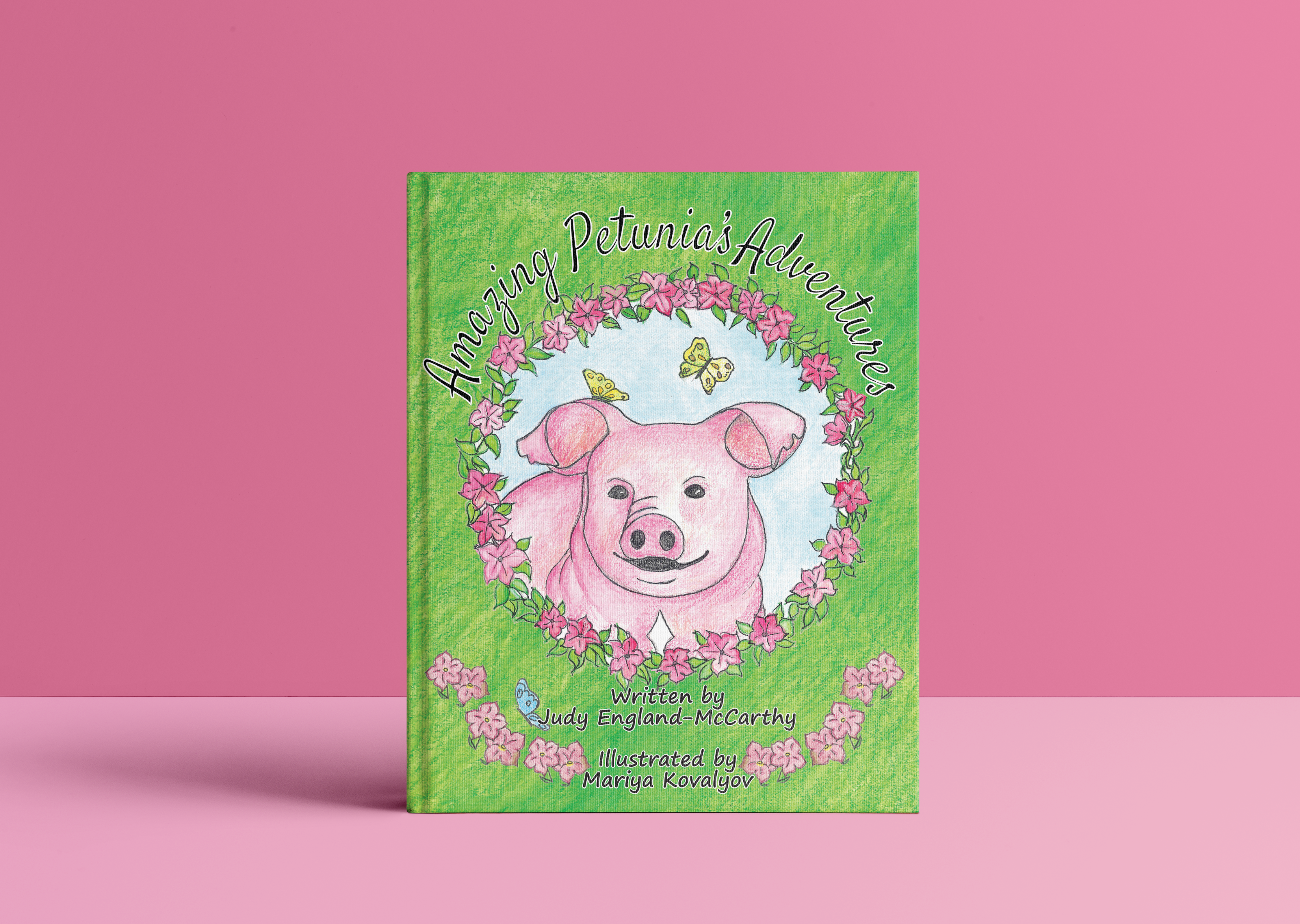 *Standard Children's Book 32 pages
As I opened one of the cardboard storage boxes I came across a different sort of puppet. It fit on your head instead of your hands. No sooner did I see it in the box, then it was upon my head and I was rushing around looking for the librarian saying, "It's a flying pig." Miss Linda embraced my unbridled enthusiasm. She smiled at me as I announced, "I am definitely going to make a story about this one." Thinking all the while how I had grown up hearing the phrase 'when pigs fly,' a figure of speech that means a complete impossibility for something to ever happen.  Right then and there I knew I would write a story to show the world that not only can pigs fly, they can prove dreams really come true.

Petunia Pig Endures
Reviewed in the United States 🇺🇸 on May 24, 2021
Verified Purchase
I purchased two copies of this delightful book, one for my six-year-old granddaughter and one for me. When we speak on the phone, we have our own copy in front of us. My granddaughter reads the book and I follow along, helping her with a word or two. She comments on the pictures and Petunia's experience, and never tires of this delightful story. The morale of the story is not to give up and to face up to difficult times. When we strive to achieve, we do, and the feeling of accomplishment is beyond the feeling of struggle.
Learn the steps to becoming an author. This engaging presentation is ideal for schools, book clubs, & libraries. Available in person & or live with zoom.
Her stories are filled with elements of humor, wisdom and magically unfold sharing with the listener life's truths. Relive the Wild West; learn how the tortoise got his shell. Audiences both young and old will be entertained with her joyful telling.
Thank you for sharing your energy, talent & knowledge of Annie Oakley during our Tea Fundraiser. Your amazing storytelling skills brightened the room. We are so blessed & honored to have you perform. 
Donna Keeney
Co-President, Open Arms Inc, Toms River, NJ
Judy England-McCarthy's lively, expressive and dramatic style keeps the entire audience enchanted – here is a performance not to miss!
Linda Hansen
Library Director, South Plainfield Public Library
Judy's stories on the Old West painted an unforgettable image of the life and times of the pioneers. Her rendition of Annie Oakley was especially entertaining.
Joanne Stivale
Legislative Chairperson AARP
You are such a natural talent. I hope you will continue to bring your gifts to other schools and libraries. I would recommend you to anyone!
Donna Bode
Children's Librarian Rahway NJ
Workshops can be adapted for any age group.
Use storytelling as a fun learning tool to engage the minds and hearts of your listeners.  Learn new ways to help tell stories effectively. Everyone will be so caught up in the fun they won't know that they are actually learning important aspects of putting together a story. This workshop has lots of practical hands-on work for the participants to do. By the end of the workshop the groundwork for building and telling a story will be firmly in place, with the tools on how to put your own spin on it.
This workshop allows people to
focus on a theme, create small touchstones to use as tools and set about through the use of story to encourage their listeners or audience to understand the theme and bring it into their lives.  Stories are broken down into the basic components and the participants are taught the skills to understand what a story is made up of and how to put one together.  Please wear comfortable clothes.  All material is supplied by instructor.
Building a Story
From the Ground Up
The participants will learn the skills necessary to present an idea using a story that engages the minds and hearts of their prospective listeners. There will be lots of practical hands-on work that will teach ways to help tell stories effectively to their intended audience.
Developing the Story
from Within
This workshop allows people to focus on a theme, create small touchstones to use as tools and set about through the use of story to draw in their listeners or audience. It teaches the skills to understand what a story is made up of and how to put one together. Using themes to bring meaning into
their stories.
Find  ways to help tell stories effectively and find your personal style. There will be lots of practical hands-on work for you to do, with the opportunity to put your own spin on it. By the end of the workshop the groundwork for building and telling a story will be firmly in place.  Use storytelling as a fun learning tool to engage the minds and hearts of your listeners.
Interaction through Themes
Using small touchstones and other tools, we will focus on a theme, learn to build a story and learn how to direct it towards a select audience.
Learn to expand the role of storytelling from entertainment to educational. Collaborative discussions, Facilitator-led discussions, building on other's ideas in a team effort with activities to learn better listening skills and recognizing cues of others.
Learn how to relax and de-stress with some basic techniques. Good for people of all ages. Requires no fancy equipment, or preparation other than a few minutes of time and the willingness to practice. Available for businesses, schools & great for Senior Centers most workshop/presentations programs can be geared towards the needs of any organization.
Changing How You See
The World
This is a game changer for anyone who wants to gain insight into perspective and change how they see the world. It explores shifting paradigms and ways to interact more fully with each other. Through the use of stories, props and games the participants learn how to unleash their imagination and communicate their own personal story, in fun ways, with others.
Paradigm Shifting
for Better Understanding
Ability to spark and enhance critical synergy and creative energy by focusing on skills of observation, motivation and paradigm shifting with a team building emphasis. Using stories to gain insight into how we see the world. Shifting our paradigms to interact more fully with each other. The workshop helps the individual find a fun way to better communicate.
Workshops/Presentations
for the following groups
Woodbridge Library
South Plainfield Library

Boscov's Department Store

NJ League for Nursing Convention

AARP Linden Chapter 

South Plainfield Library
First Unitarian Society of Plainfield
Mother's Center of Central NJ
BPU
Program Leader JFK MRMC nursing
boot camp
Pregnancy workshop UMDNJ
"No act of kindness, no matter how small is ever wasted."  –Aesop
This workshop is proactive rather than reactive to the issues of inappropriate behavior. Through interactive storytelling the participants look at and see where, why and when inappropriate behaviors occurs in the story. Participants get the opportunity to come up with alternatives that might make for a more positive outcome. Finally, the participants must take on a new behavior and choose ways to implement it over the following week. In the follow up workshop discussion of what transpired for participants is processed. This workshop incorporates  using story to change the paradigm in a positive way.
The students truly enjoyed their engaging experience that they encountered with Judy. She told the students meaningful stories with an education theme.
Maria Melillo
4th Grade Teacher, Carteret Board of Education
The theme of kindness truly spoke to the students. They took the assignment very seriously and were constantly talking about how they could show an act of kindness.
Sharon Christie
Reading Teacher, Carteret Board of Education
Expression without words is the universal language.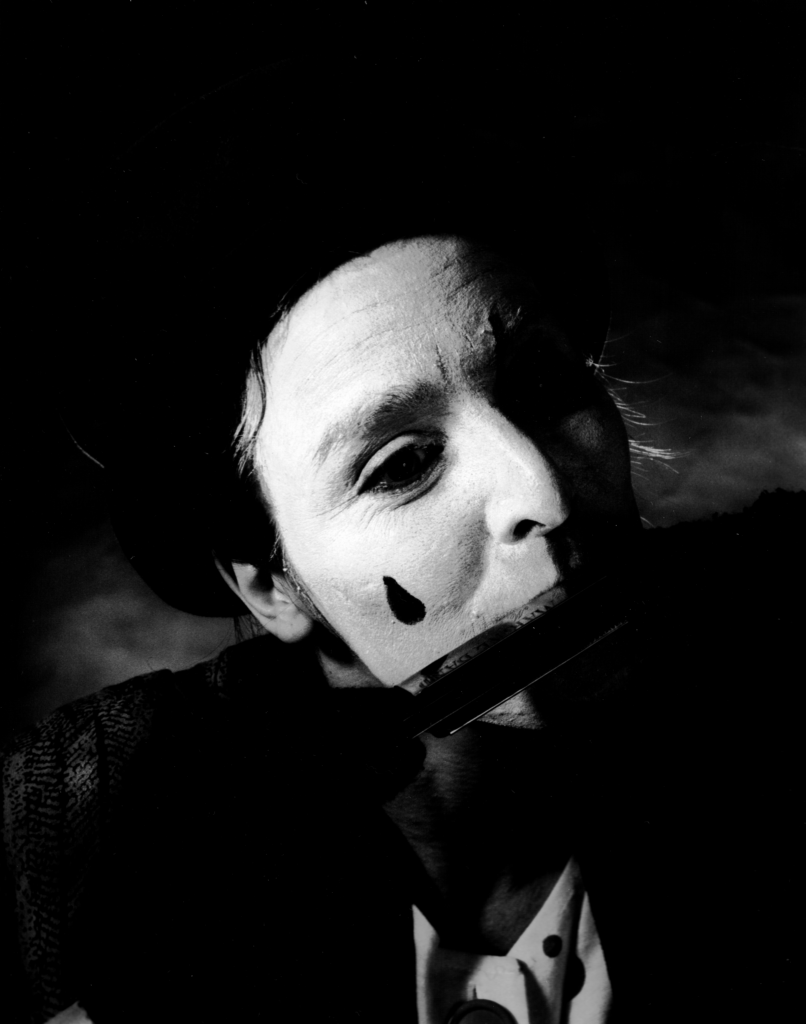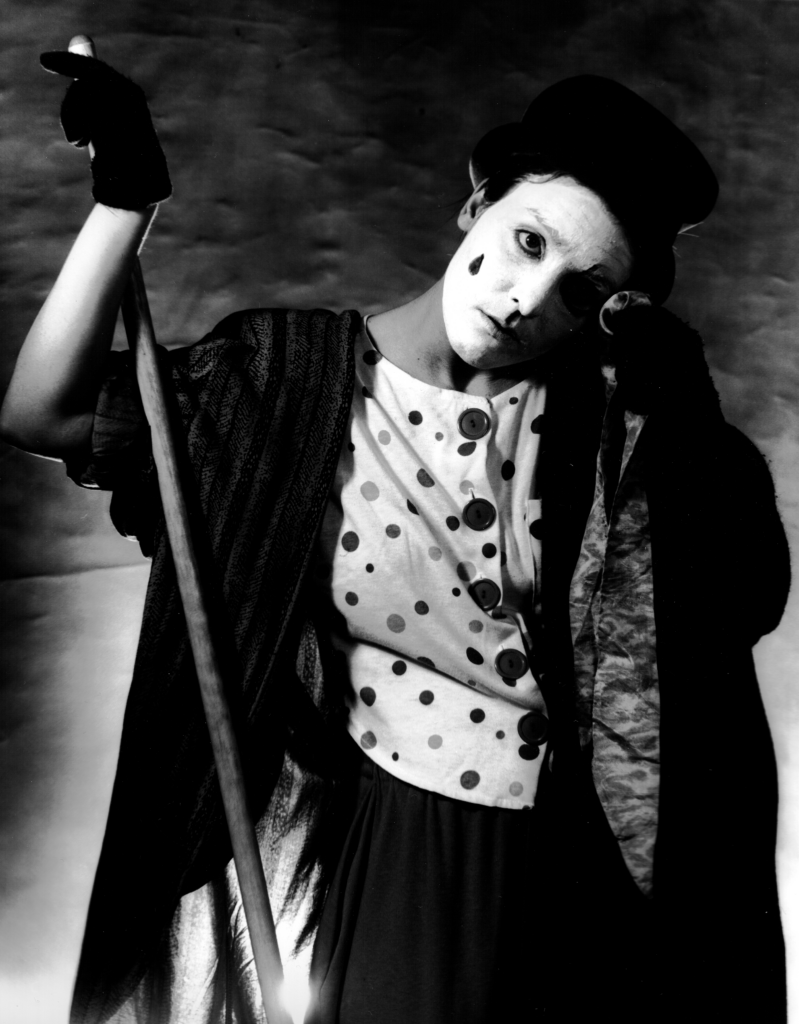 Mime at block party
"Judy England-McCarthy as a mime at a street fair in Bethlehem PA. She was very entertaining and engaging, moving through the crowd and interacting well with both adults and children."

Stephanie Stover
NE Ministries
Fund Raiser
Children's Dyslexia Centers of NJ

"We invited Judy England-McCarthy as a mime for our summer Fund Raising BBQ event for the Children's Dyslexia Centers of NJ. The children and adults alike loved her UNSPOKEN humor and wit, as she delighted the guests around the room."

Kevin W. Engemann, Chairman of the Board
Children's Dyslexia Centers of NJ-Scotch Plains Campus.
Trinity Episcopal Church Event
"Judy England-McCarthy a popular, engaging storyteller to children, has brightened the outreach efforts of our Trinity Episcopal Church in Bethlehem for three consecutive years, beginning with a joint program on music for the children at the Northeast Ministry in 2014. In 2015, she did double duty as a storyteller and mime at our July Market Street Fair Storyteller's Pavilion. In 2016, she performed as a mime at the NE Ministry Block Party in June and as a Storyteller at our four part Children's Story series for the NE Ministry Summer Camp in July and August. She is a mainstay of cooperation enjoyed by Trinity and the Lehigh Valley Storytelling Guild."

Canon Mother Laura Howell
Obl.S.B., Rector, Trinity Episcopal Church, Bethlehem, PA.
Street Patron
"I think the mime was very clever and on the spot creative dealing with children of all ages. In particular she was patient with an adoring but annoying fan (a ten year old boy) who kept following her around."

Sarah

Contact me if you have any questions, need further information, or assistance.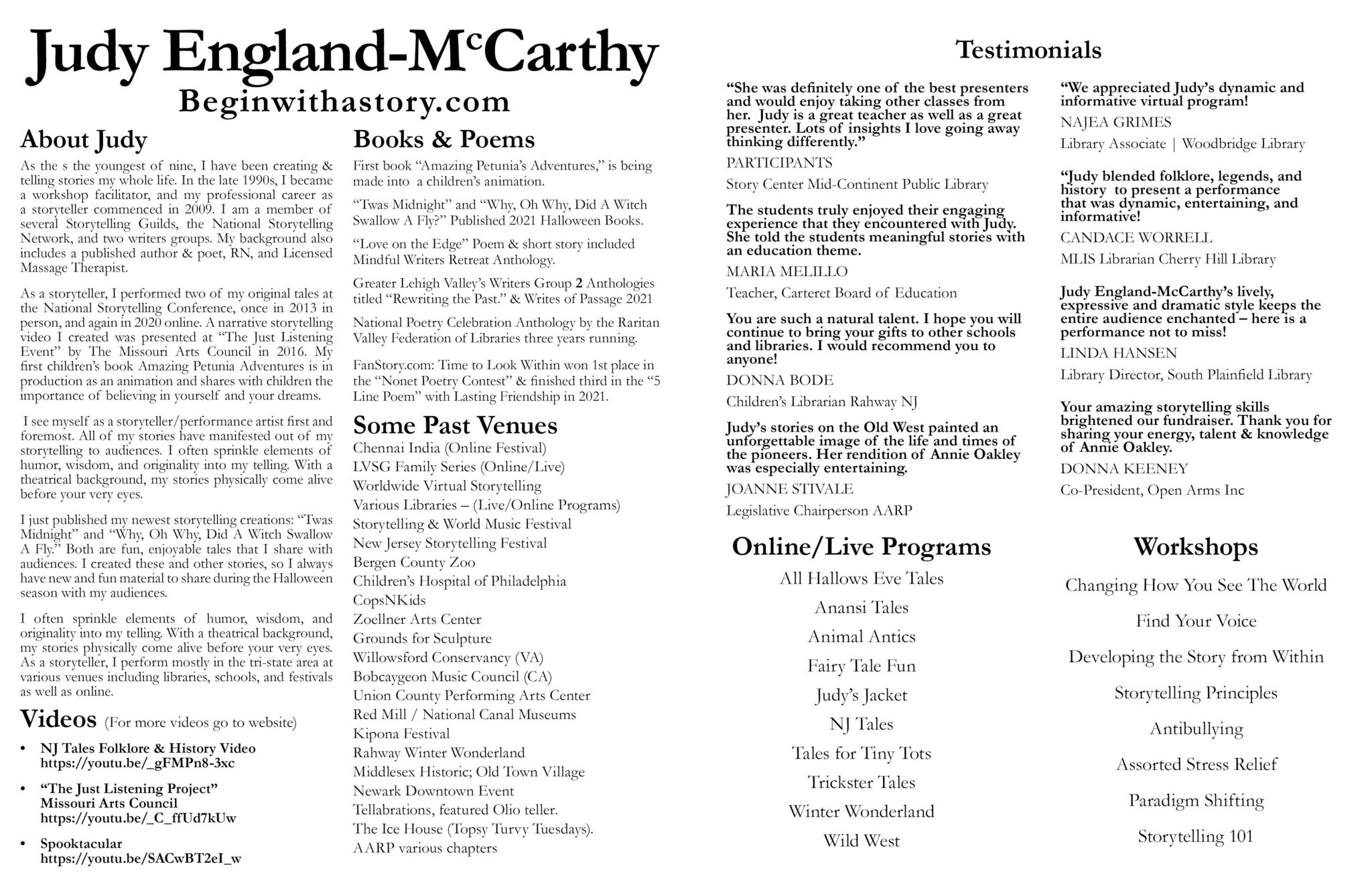 programs / books / workshops
List title of books & number of copies you wish to purchase.
If you want the book autographed please include what you want it to say.
To place an order for an autographed copy with free shipping USA
Once the email is received, I will get back to you with payment & mailing instructions.
Payments can only be made through Venmo or Paypal