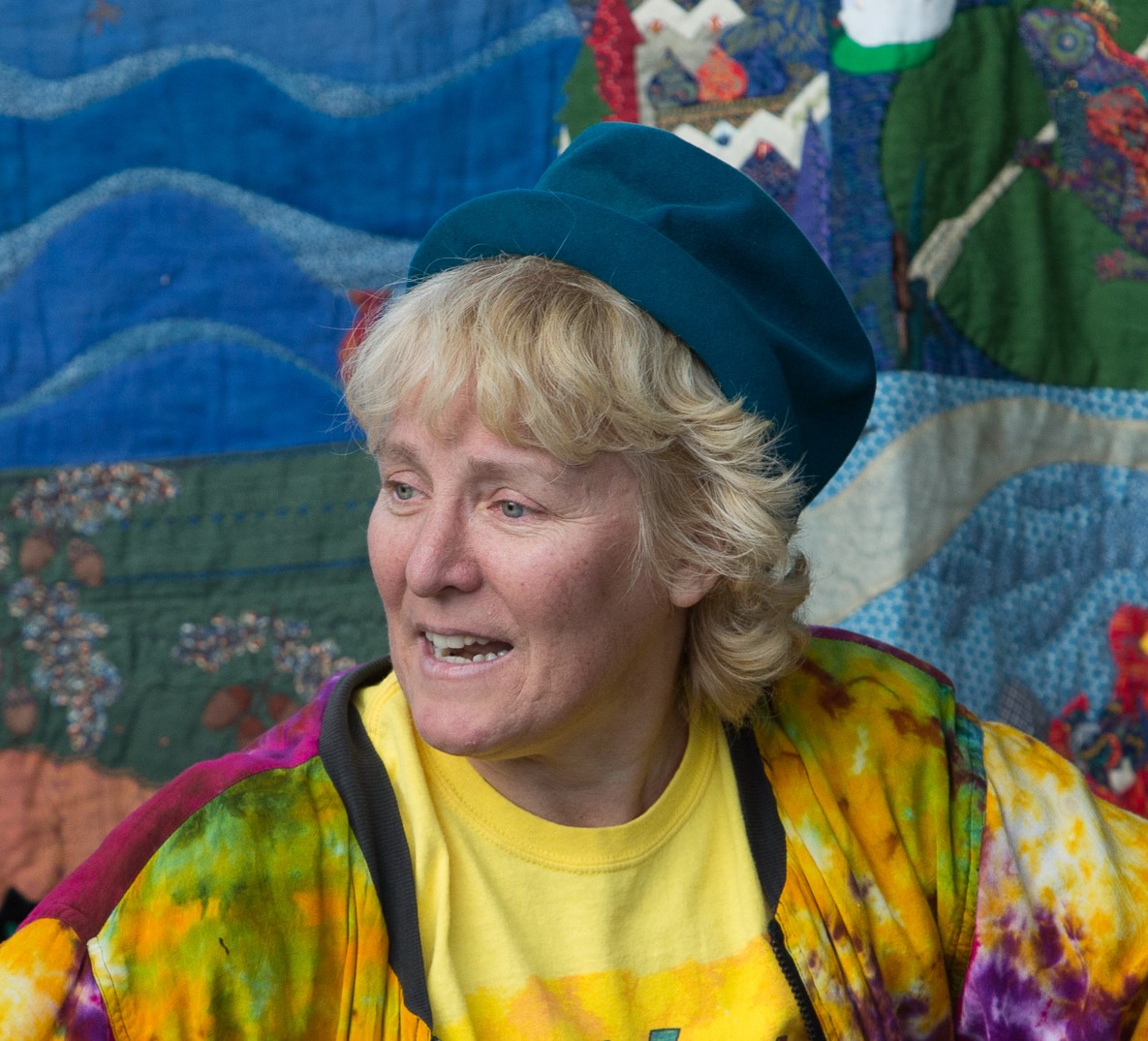 As both an author and professional storyteller my creative intention is to make connections with people through writing and sharing stories. I hope to entertain, inform and transform people through my telling and written stories. In this way, the oral tradition can find new life and thrive.
Beginwithastorynow@gmail.com
(908) 357-0622
New Jersey
Storyteller/Teaching Artist/Workshop Facilitator/Author
As a Storyteller, she Adapts, Creates, and Shares Stories,
Poetry, Living Characters, Children's Books & Videos
Judy sprinkles elements of humor, wisdom, and originality in her stories. With a strong theatrical background, her stories physically come alive before your very eyes. You can find her performing at various venues throughout the tri-state area including libraries, schools, and festivals. In this way,her stories are a pleasure for both the reader & listener.
 "Tell me a story," said my son to me. 
When he grew up, he remembered & shared it with others. 
Judy began as a workshop facilitator in the 90's, which led to life as a professional storytelling in 2009 and becoming a published author in 2013 with her first children's book. She is a member of several Storytelling and Writer's Guilds .
Available for online performances & workshops worldwide. A GOOD STORY TOUCHES THE SOUL & HELPS THE SPIRIT SOAR.
A video representation of an original poem was presented at "The Just Listening Event" by The Missouri Arts Council.
A creator of many of her tales she has self published one of her original stories, "Amazing Petunia's Adventures," and it is
available on Amazon.
Judy is currently working to make "Amazing Petunia's Adventures" into  a children's animation series.
Launching later this year "Twas Midnight" and "Why, Oh Why, Did A Witch Swallow A Fly?" Both Halloween tales for the Trick-or -Treat season. 
In the National Poetry Celebration Anthology by the Raritan Valley Federation of Libraries three years running.
Poem & short story in "Love on the Edge" Mindful Writers Retreat Series
Poem in the Greater Lehigh Valley's Writers Group (GLVWG) Anthology titled "Rewriting

the Past."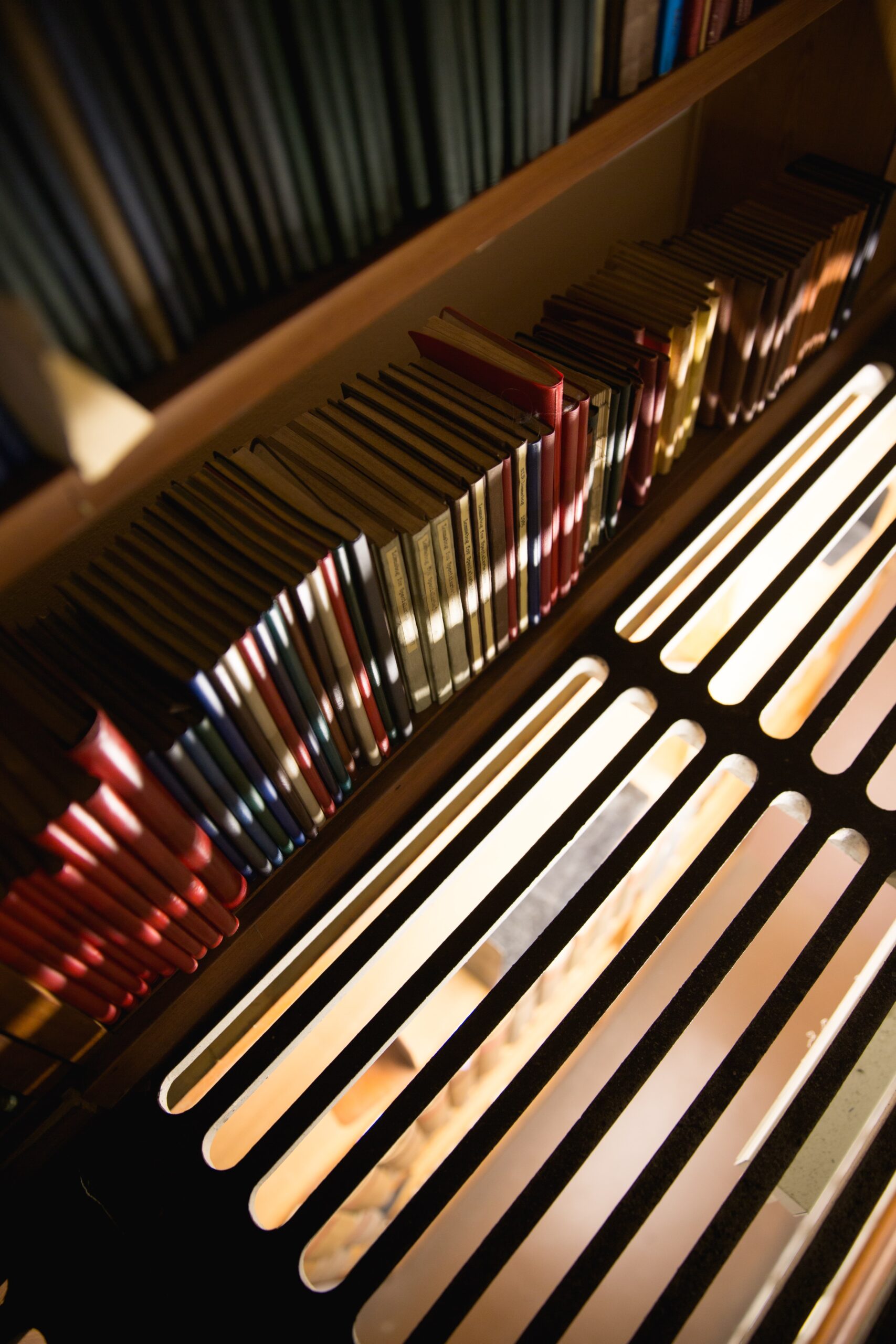 Performance Venues
Live / Online
The Center For Art In Wood
Chennai – India
(Online Festival)
LVSG Family Series
Worldwide Virtual Storytelling
(African Folktales: Anansi & Aesop)
Woodbridge Library – Storytelling 101
(Online Workshop)
Cherry Hill Library – New Jersey Tales
(Online Storytelling Event)
12th Storytelling & World Music Festival
New Jersey Storytelling Festival
Bergen County Zoo
Children's Hospital of Philadelphia
CopsNKids
Zoellner Arts Center
Grounds for Sculpture
Willowsford Conservancy Dark Sky Event
Bobcaygeon Music Council
Canadian Summer Program
Union County Performing Arts Center 
Red Mill Museum
Timberline Lake Camping Resort
National Canal Museum
Kipona Festival
Rahway Winter Wonderland
Middlesex Historic; Old Town Village
Newark Downtown Event
Das Awkscht Fescht
Various Tellabrations, Featured Olio teller.
The Ice House (Topsy Turvy Tuesdays).
AARP various chapters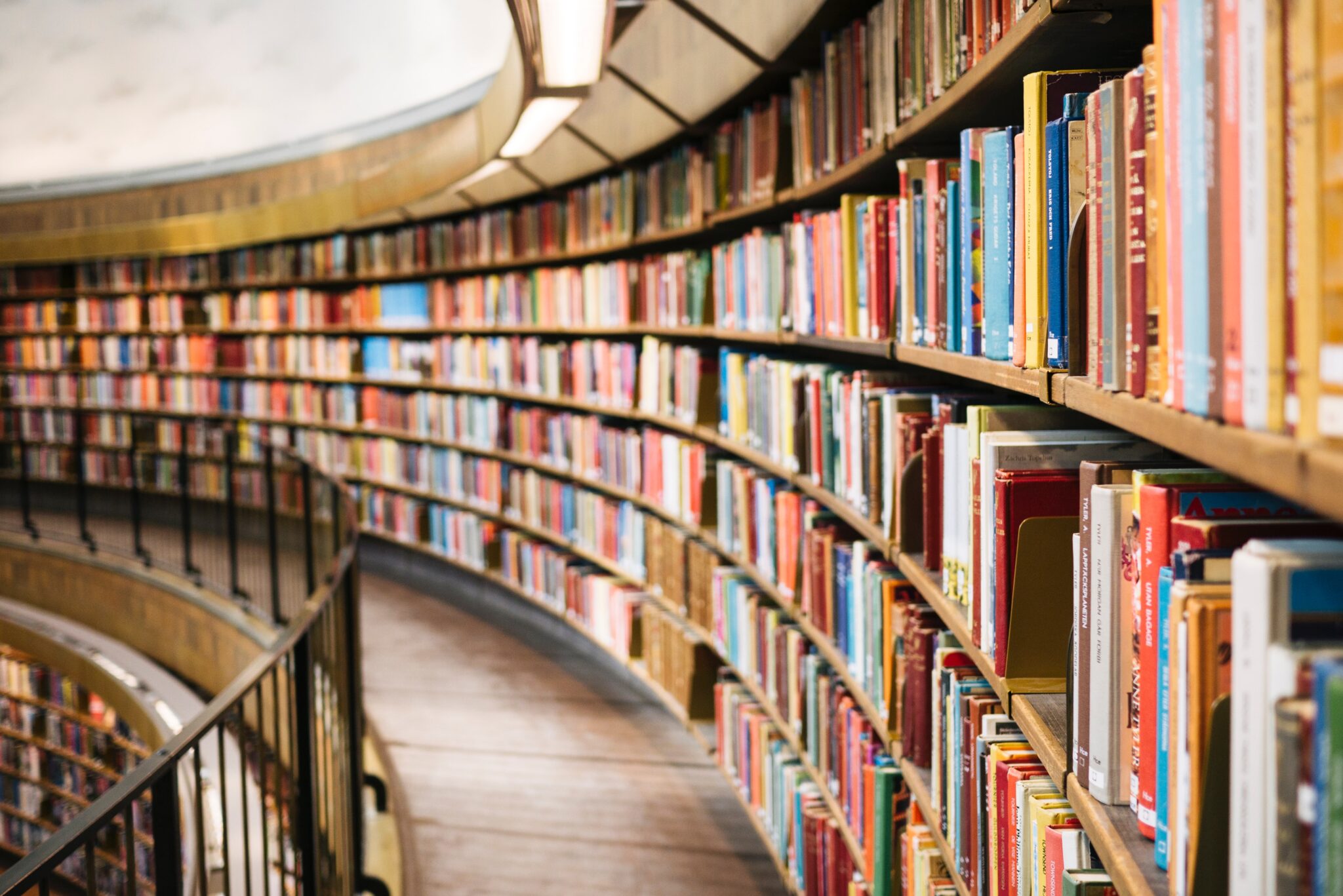 Children | Family Friendly | Adult/Senior
Will adapt most programs for the specific needs of the event.
Perhaps have a story created just for you, or for your special occasion.
In Person & Online Programs
Changing How You See The World
Find Your Voice
Developing the Story from Within
Storytelling Principles
Antibullying
Assorted Stress Relief
Paradigm Shifting
All Hallows Eve Tales
Animal Antics
Fairy Tale Fun
Judy's Jacket
Original Tales
Storytelling 101
Tales for Tiny Tots
Trickster Tales
Winter Wonderland
Around the World

Greek Myths

Holiday Themes

Irish Tales

Jack Tales

Jersey Tales

Seasons of Stories

Spooky Stories

Tall Tales

Wild West

World Tales
All Hallows Eve Tales
Animal Antics
Fairy Tale Fun
Jersey Tales
Judy's Jacket
Storytelling 101
Tales for Tiny Tots
A Shared Gift (Christmas Tales)
Anansi Tales

Jack Tales

Original Tales

Spooky Stories

Trickster Tales

Wild West

World Tale
Available Online or in Person
Sample Telling of Original Tale
Currently Available Online
"Judy blended folklore, legends, and history  to present a performance that was dynamic, entertaining, and informative! It was amazing to see her become Mrs. Leeds, the mother of the Jersey Devil, and offer a dramatic interpretation of the origin of the Jersey Devil. The performance was online through Zoom and she used that format to enhance her story telling. It was a thoroughly enjoyable time for all ages."
Candace Worrell
MLIS | Librarian | Cherry Hill Public Library
Personal Stories
Workshop
Currently Available Online
"We appreciated Judy's dynamic and informative virtual program! She gave our patrons a lively presentation with a wonderfully personal touch. Her ability to adapt her interactive program to fit the virtual landscape was beautifully achieved."
Najea Grimes
Library Associate | Woodbridge Public Library
Currently Available Online
"Excellent and so helpful" 
"Great Program" 
"I'm so glad that we were able to use the breakout rooms for this session they really add a nice dimension to the workshop, working with the material, and other tellers learning the craft" 
"She was definitely one of the best presenters and would enjoy taking other classes from her." 
"I learned so much!" 
"LOVED IT. Learned so much. And Judy is a great teacher as well as a great presenter. Lots of insights that gave me a slightly different perspective–I always love that. Am going away thinking differently than when I came in." 
Participants
Story Center | Mid-Continent Public Library
Learn the steps to becoming an author. This engaging presentation is ideal for schools, book clubs, & libraries. Available in person & or live with zoom.
Amazing Petunia's Adventures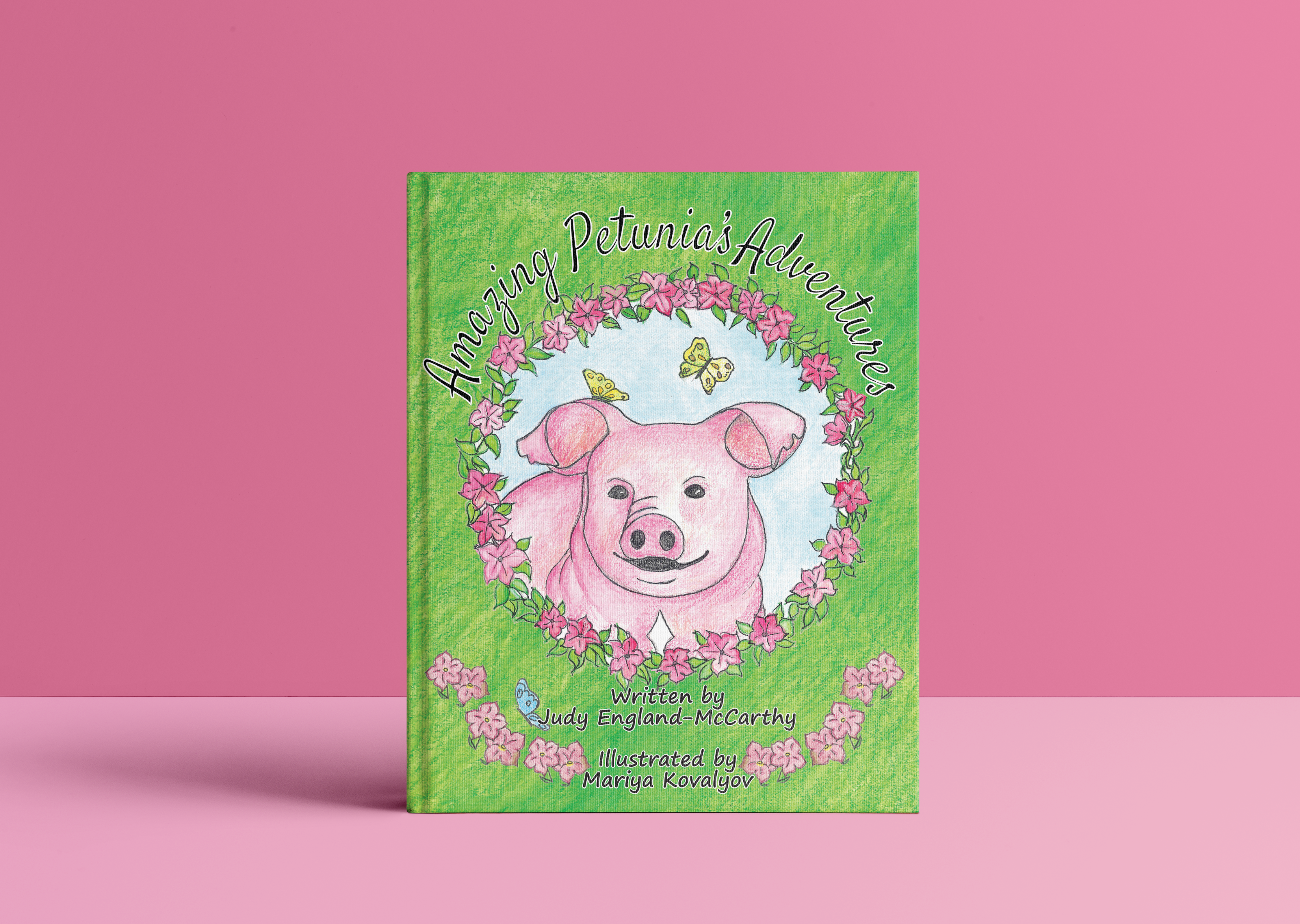 As I opened one of the cardboard storage boxes I came across a different sort of puppet. It fit on your head instead of your hands. No sooner did I see it in the box, then it was upon my head and I was rushing around looking for the librarian saying, "It's a flying pig." Miss Linda embraced my unbridled enthusiasm. She smiled at me as I announced, "I am definitely going to make a story about this one." Thinking all the while how I had grown up hearing the phrase 'when pigs fly,' a figure of speech that means a complete impossibility for something to ever happen.  Right then and there I knew I would write a story to show the world that not only can pigs fly, they can prove dreams really come true.
Amazing Petunia's Adventures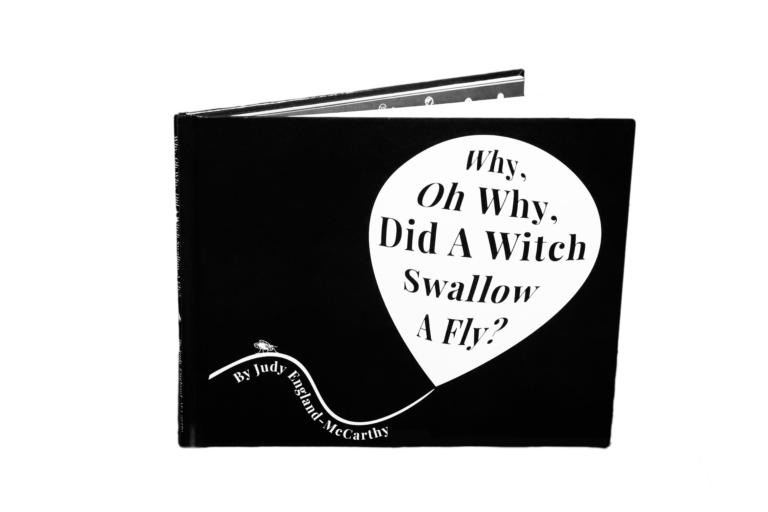 Why, oh why, did a witch swallow a fly?
Though there are many versions of the "Old Lady Who Swallowed A Fly" this is the first to question why. A fun adaptation of an old tale that has been entertaining children for years. The simply stylized black & white illustrations make for a refreshing visual change.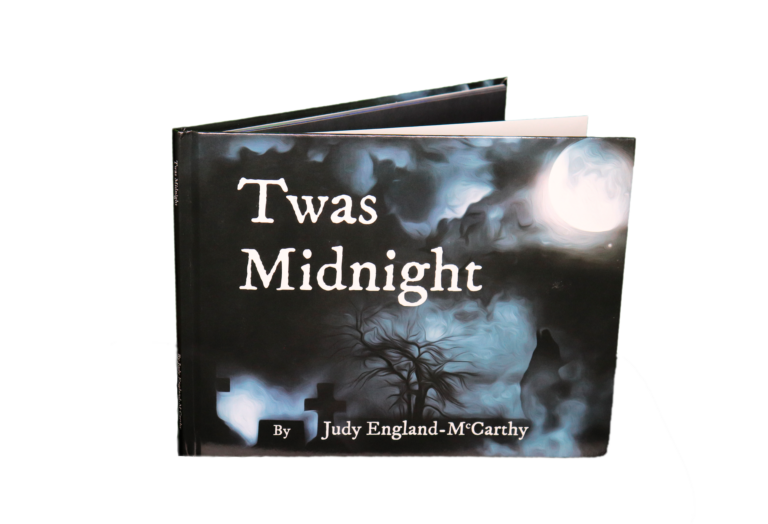 Twas Midnight is an original tale of rhyming verse. The photo-like pictures lend an interesting & unique quality to the story. Reading and sharing this with your children is a fun way to get into the spirit of this festive holiday.
Anthologies Featuring the Author
(The 12 hours of halloween)
The Just Listening Project took shape in 2014 as a community response to social justice in Ferguson, Missouri. The Missouri Humanities Council and the University of Missouri came together to do this joint project and it was screened in February 2016 at the University of Missouri Saint Louis. This video is my contribution to that project and was showcased at the event and focuses on art as a reaction to tragedy as a form of activism.
Her stories are filled with elements of humor, wisdom and magically unfold sharing with the listener life's truths. Relive the Wild West; learn how the tortoise got his shell. Audiences both young and old will be entertained with her joyful telling.
Thank you for sharing your energy, talent & knowledge of Annie Oakley during our Tea Fundraiser. Your amazing storytelling skills brightened the room. We are so blessed & honored to have you perform. 
Donna Keeney
Co-President, Open Arms Inc, Toms River, NJ
Judy England-McCarthy's lively, expressive and dramatic style keeps the entire audience enchanted – here is a performance not to miss!
Linda Hansen
Library Director, South Plainfield Public Library
Judy's stories on the Old West painted an unforgettable image of the life and times of the pioneers. Her rendition of Annie Oakley was especially entertaining.
Joanne Stivale
Legislative Chairperson AARP
You are such a natural talent. I hope you will continue to bring your gifts to other schools and libraries. I would recommend you to anyone!
Donna Bode
Children's Librarian Rahway NJ
Workshops can be adapted for any age group.
Use storytelling as a fun learning tool to engage the minds and hearts of your listeners.  Learn new ways to help tell stories effectively. Everyone will be so caught up in the fun they won't know that they are actually learning important aspects of putting together a story. This workshop has lots of practical hands-on work for the participants to do. By the end of the workshop the groundwork for building and telling a story will be firmly in place, with the tools on how to put your own spin on it.
This workshop allows people to
focus on a theme, create small touchstones to use as tools and set about through the use of story to encourage their listeners or audience to understand the theme and bring it into their lives.  Stories are broken down into the basic components and the participants are taught the skills to understand what a story is made up of and how to put one together.  Please wear comfortable clothes.  All material is supplied by instructor.
Building a Story
From the Ground Up
The participants will learn the skills necessary to present an idea using a story that engages the minds and hearts of their prospective listeners. There will be lots of practical hands-on work that will teach ways to help tell stories effectively to their intended audience.
Developing the Story
from Within
This workshop allows people to focus on a theme, create small touchstones to use as tools and set about through the use of story to draw in their listeners or audience. It teaches the skills to understand what a story is made up of and how to put one together. Using themes to bring meaning into
their stories.
Find  ways to help tell stories effectively and find your personal style. There will be lots of practical hands-on work for you to do, with the opportunity to put your own spin on it. By the end of the workshop the groundwork for building and telling a story will be firmly in place.  Use storytelling as a fun learning tool to engage the minds and hearts of your listeners.
Interaction through Themes
Using small touchstones and other tools, we will focus on a theme, learn to build a story and learn how to direct it towards a select audience.
Learn to expand the role of storytelling from entertainment to educational. Collaborative discussions, Facilitator-led discussions, building on other's ideas in a team effort with activities to learn better listening skills and recognizing cues of others.
Learn how to relax and de-stress with some basic techniques. Good for people of all ages. Requires no fancy equipment, or preparation other than a few minutes of time and the willingness to practice. Available for businesses, schools & great for Senior Centers most workshop/presentations programs can be geared towards the needs of any organization.
Changing How You See
The World
This is a game changer for anyone who wants to gain insight into perspective and change how they see the world. It explores shifting paradigms and ways to interact more fully with each other. Through the use of stories, props and games the participants learn how to unleash their imagination and communicate their own personal story, in fun ways, with others.
Paradigm Shifting
for Better Understanding
Ability to spark and enhance critical synergy and creative energy by focusing on skills of observation, motivation and paradigm shifting with a team building emphasis. Using stories to gain insight into how we see the world. Shifting our paradigms to interact more fully with each other. The workshop helps the individual find a fun way to better communicate.
Workshops/Presentations
for the following groups
Woodbridge Library
South Plainfield Library

Boscov's Department Store

NJ League for Nursing Convention

AARP Linden Chapter 

South Plainfield Library
First Unitarian Society of Plainfield
Mother's Center of Central NJ
BPU
Program Leader JFK MRMC nursing
boot camp
Pregnancy workshop UMDNJ
"No act of kindness, no matter how small is ever wasted."  –Aesop
This workshop is proactive rather than reactive to the issues of inappropriate behavior. Through interactive storytelling the participants look at and see where, why and when inappropriate behaviors occurs in the story. Participants get the opportunity to come up with alternatives that might make for a more positive outcome. Finally, the participants must take on a new behavior and choose ways to implement it over the following week. In the follow up workshop discussion of what transpired for participants is processed. This workshop incorporates  using story to change the paradigm in a positive way.
The students truly enjoyed their engaging experience that they encountered with Judy. She told the students meaningful stories with an education theme.
Maria Melillo
4th Grade Teacher, Carteret Board of Education
The theme of kindness truly spoke to the students. They took the assignment very seriously and were constantly talking about how they could show an act of kindness.
Sharon Christie
Reading Teacher, Carteret Board of Education
Expression without words is the universal language.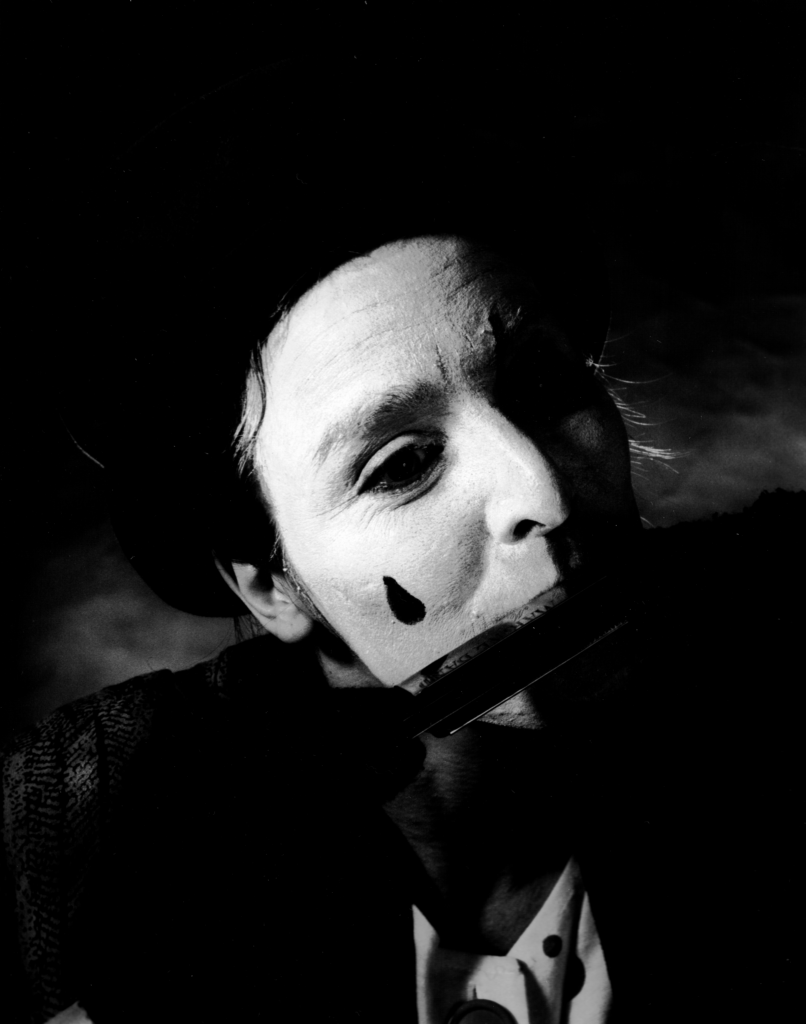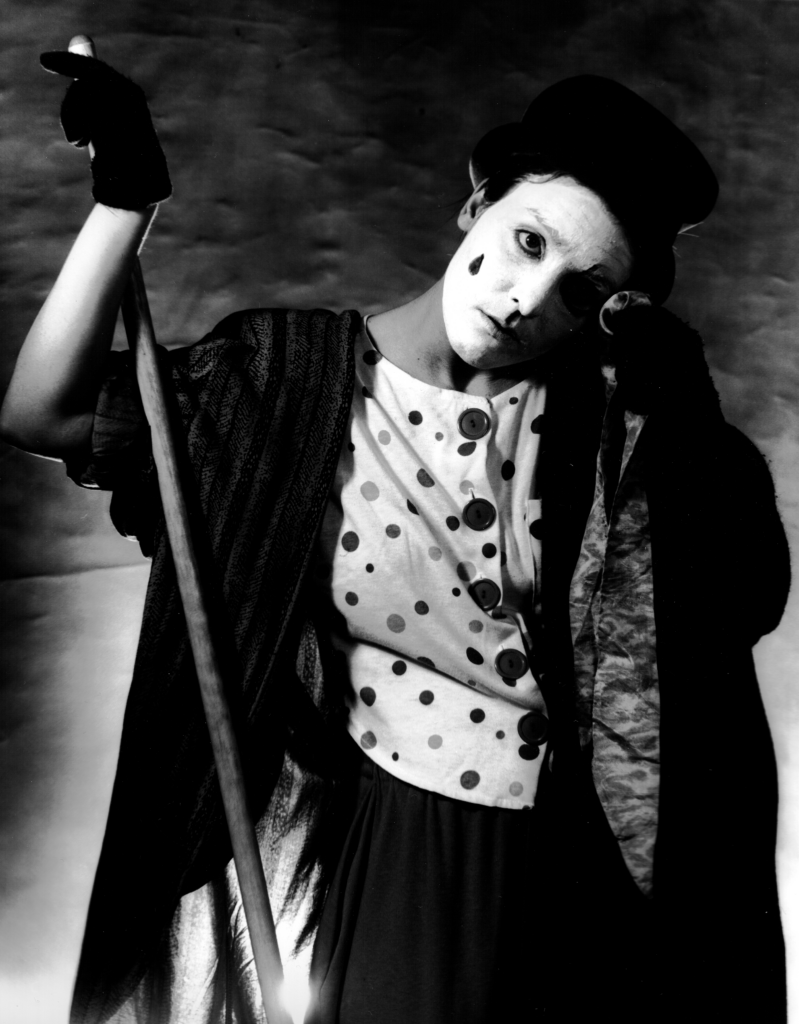 Mime at block party
"Judy England-McCarthy as a mime at a street fair in Bethlehem PA. She was very entertaining and engaging, moving through the crowd and interacting well with both adults and children."

Stephanie Stover
NE Ministries
Fund Raiser
Children's Dyslexia Centers of NJ

"We invited Judy England-McCarthy as a mime for our summer Fund Raising BBQ event for the Children's Dyslexia Centers of NJ. The children and adults alike loved her UNSPOKEN humor and wit, as she delighted the guests around the room."

Kevin W. Engemann, Chairman of the Board
Children's Dyslexia Centers of NJ-Scotch Plains Campus.
Trinity Episcopal Church Event
"Judy England-McCarthy a popular, engaging storyteller to children, has brightened the outreach efforts of our Trinity Episcopal Church in Bethlehem for three consecutive years, beginning with a joint program on music for the children at the Northeast Ministry in 2014. In 2015, she did double duty as a storyteller and mime at our July Market Street Fair Storyteller's Pavilion. In 2016, she performed as a mime at the NE Ministry Block Party in June and as a Storyteller at our four part Children's Story series for the NE Ministry Summer Camp in July and August. She is a mainstay of cooperation enjoyed by Trinity and the Lehigh Valley Storytelling Guild."

Canon Mother Laura Howell
Obl.S.B., Rector, Trinity Episcopal Church, Bethlehem, PA.
Street Patron
"I think the mime was very clever and on the spot creative dealing with children of all ages. In particular she was patient with an adoring but annoying fan (a ten year old boy) who kept following her around."

Sarah

Contact me if you have any questions, need further information, or assistance.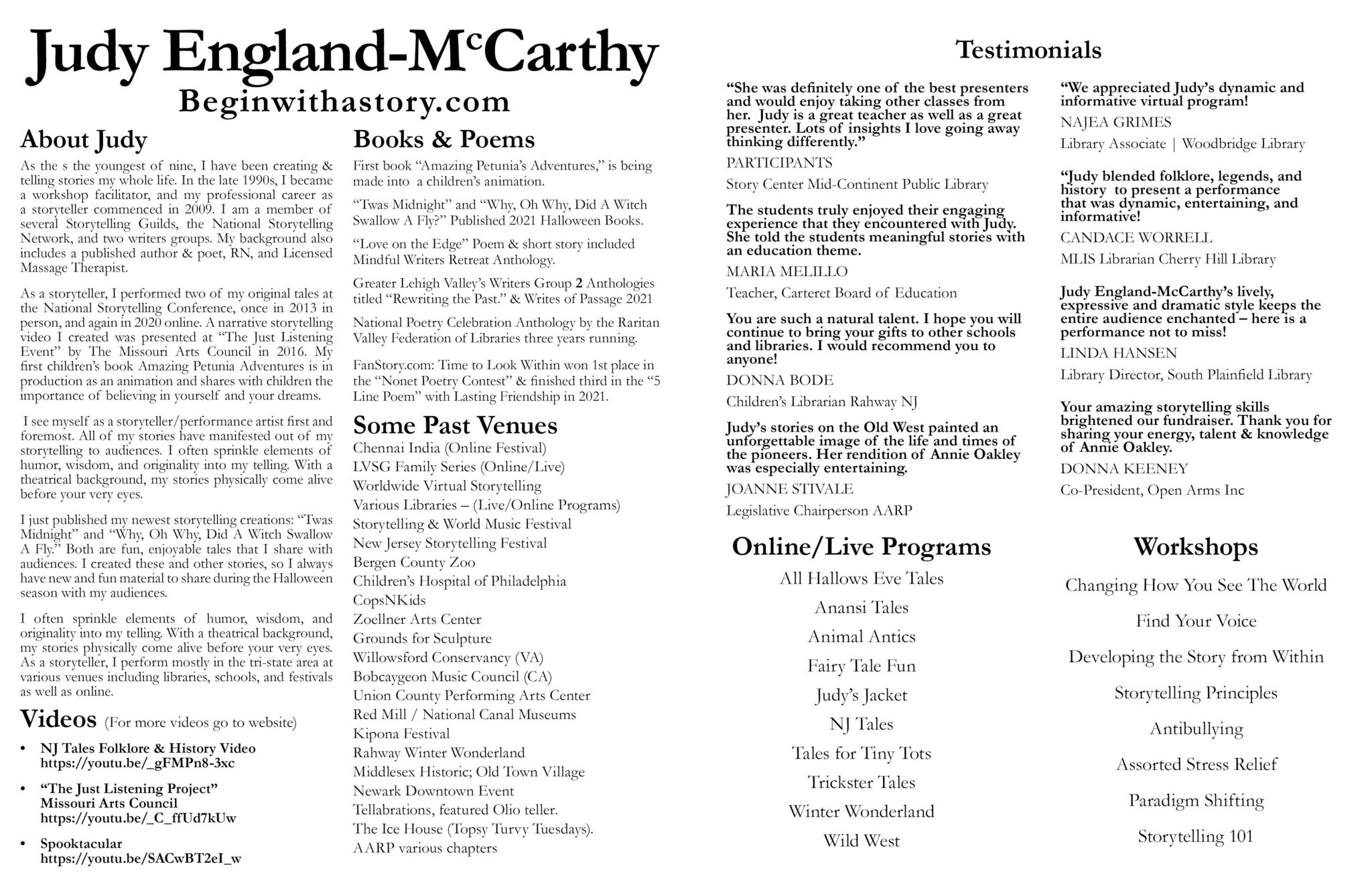 Please fill out the form below & I will get back to you.